Leopoldo Alinari (Florence 1832 - 1865) began his career in Florence working with the copper engravers Giuseppe and Luigi Bardi, who had turned to photography as a new substitute for engraving illustrations. In 1854 he formed a partnership with his brothers Romualdo (1830-1890) and Giuseppe (1836-1890). From this time the photographic embossment "Fratelli Alinari Fotografi, Firenze, presso Luigi Bardi" began to appear. Production was primarily concentrated on panoramas, views and monuments in Tuscan cities, as well as in the rest of Italy. In 1861 Fratelli Alinari contributed thirty five works to the Italian Exhibition in Florence and continued to produce views and art reproductions to the extent that they decided to found the Stabilimento Fotografico Alinari. Work continued to increase as thousands of photographs of art works and monuments of cities throughout Italy were executed. After the death of Leopoldo, the remaining brothers continued to manage the firm until Vittorio (1859-1932), the son of Leopoldo, became director in 1890. Fratelli Alinari had already been publishing photographic books since 1888 but under the guidance of Vittorio, this parallel activity intensified with new documentary campaigns of the art and architecture of Italy and abroad. Under Vittorio, Fratelli Alinari began to produce high quality artistic editions with refined printing and phototype (collotype) techniques. However, Vittorio was profoundly affected by the death of his son Carlo (in 1910 at the young age of nineteen) just as he was beginning to assume a greater role in the family business. In 1921, a year after the formation of Fratelli Alinari Società An. I.D.E.A., Vittorio capped his extensive artistic and visual career by publishing a monograph dedicated to the sites of the Divine Comedy, an illustrated edition of the "Italian landscape of Dante". This work was the crowning achievement of his own distinguished career and that of an entire family of photographers.
Roman painter and photographer, Gioacchino Altobelli (Terni 1814 - Rome ca. 1865) shared his studio with Pompeo Molins on via Fontanella Borghese until 1865, and later with Enrico Verzaschi on via di Ripetta, until 1875. He was the official photographer of the Academy of France and for the Art Works of the Roman Railway. He was acclaimed at the World's Fair in Paris of 1867 with "Six prints representing the monuments of Rome in photography, with a new system privileged by the Papal Authority". He is among the first to photograph the Breccia of Porta Pia, posing soldiers for a picture in commemoration of the event. On 17 February 1878 he photographed the tumulus built in the Sistine Chapel for the funeral rites of Pope Pius IX.
Modena 1786 – Florence 1863
He was an astronomer, an optician, a naturalist and an engineer and taught mathematics in Modena until 1831 when he settled in Florence at the Head of the Astronomy Observatory. He made several discoveries and inventions in various fields. He was among the first to disseminate the early photographic processes, such as daguerreotype and calotype negative in Tuscany. There is evidence of him being in touch with William Henry Fox Talbot and Armand Hippolyte Louis Fizeau. One of the daguerreotypes made in Florence by John Alexander Ellis was a view from the Demidoff residence in San Niccolò where Amici used to live in those days. And the daguerreotype with a view of Florence under the snow kept at Archivi Alinari, made either by him or by his son Vincenzo, presents the same point of view as Ellis's daguerreotype of 1841. It's the first view of Florence on a daguerreotype made during the Granduchy of Tuscany.
Domenico Anderson (Rome 1854 - Rome 1938) was the son of the famous photographer James Anderson; he maintained his father's successful business in Rome, establishing a studio on via Salaria 7 at the corner of via Fiume, in the building that would later house the La Rinascente department store. He undertook photographic campaigns throughout Italy, documenting in detail the country's historical and artistic patrimonies and its landscape. He also worked abroad, particularly in Spain and in England. He participated in the International Exhibition of Photography in Milan in 1894, where he was awarded first prize. In the same year he was also commissioned by Kaiser Wilhelm II to photograph all the reliefs of the Colonna Antonina. In 1895 he patented a system for reproducing color photographs. He also exhibited in Florence in 1899, and in 1900 won the gold medal at the Paris World's Fair for his reproductions of frescoes and antique paintings. Guglielmo, Alessandro and Giorgio, three of the nine children he had with his wife Clotilde Sardi, continued their father's business until 1963, when the entire Anderson archive was purchased by the Alinari Archives of Florence. Roughly 15,000 negatives were destroyed during the Flood of Florence in 1966.
James Anderson (Blencarn 1813- Rome 1877) was born Isaac Atkinson in northern England. As a youth his interest in painting drew him to Paris, where he assumed his first artistic name, William Nugent Dunbar. In 1838 he moved from Paris to Rome, definitively changing name to James Anderson. In Italy he married Maria de Mutis, with whom he had four children. His interest in photography began in 1849, and in 1853 he founded the well-known photographic studio that published his first printed catalog in 1859. In 1862 he participated at the Great London Exhibition.
Ottomar Anschütz (Lissa 1846 - Lehonenberg 1907), in addition to being a photographer, was one of the leading scientists of the second half of the nineteenth century, studying the possible technological applications of photography to scientific research. He was particularly interested in instantaneous photographic visualization, and between 1881 and 1883, almost simultaneously with the research of Eadweard Muybridge and Jules-Ethienne Marey, Anschutz carried out successful and pioneering chronophotographic tests. He even succeeded in projecting a series of twenty-four photographs in sequence, using an electric tachiscope, an instrument of his own invention, with which the bright light of an electric spark coincided with the passage of each slide. The effect was kinetic, providing the magical illusion of movement. Around 1890, the Siemens company, confident in the possibilities of this new contrivance, built seventy-eight tachiscopes, but in the meantime they were surpassed by other more sophisticated projection techniques, including Edison's kinetoscope in the United States, and ultimately the Lumiére brothers' cinématographe, invented between 1894 and 1895.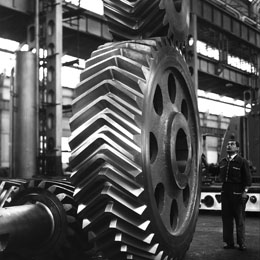 After a period of apprenticeship in the studio of the photographer Luca Comerio, Vincenzo Aragozzini (Milan 1891 – 1975), at only nineteen years of age, opened his own studio and soon became the first photographer of Milanese high society. His early works were varied, ranging from architecture to landscapes to documentation of the wars at the start of the century, such as the Italian occupation of Tripoli and the First World War, during which he became the official photographer for the Army Corps Command. From 1918-1920 he worked in the industrial field, in art and advertising, receiving commissions from many Italian companies, such as SNIA, Montecatini, Innocenti, Fiat, Philips and Pirelli. When he also became the photographer of Sogene, he realized an impressive documentation of the new skyscrapers and subway for the Municipality of Milan. After 1934 he was associated with Crimella, Camuzzi and Rizzi, and in 1937, he arrived in Torviscosa, where he would return several times to document the city's industrial development. After 1950 the agreement with Crimella ended, and he started to work with his son Fulvio, founding the "Aragozzini e Figli" (Aragozzini and Sons) company. Since 1953, his studio has been on Via Borsieri 29 in Milan, and it continues to service important Italian organizations and companies.
Rosa Rosà, Edyth von Haynau
(Vienna 1884-Rome 1978)
Edith was born into an aristocratic family in Vienna as Editha Johanna Ida von Haynau on 11 November 1884, the only child of Ernst von Haynau and Harriet Mautner von Markhof. She was educated at home and at the age of thirteen wrote two books with stories of distant countries, accompanied by artistic illustrations. She presumably attended the Wiener Kunstschule für Frauen und Mädchen (Vienna Art School for Women and Girls) for two years.
During a cruise in 1907, she met the Italian writer Ulrico Arnaldi, whom she married a year later. In the same year they moved to Rome, where their four children were born between 1909 and 1915.
From 1917, she joined the Florentine group that gravitated around the newspaper L'Italia futurista (1916–1918) under the name Rosa Rosà, publishing three articles in the paper in which she analysed the positive change in the role of women, partly due to the absence of men, who were at the front during that period.
She was also one of the few female authors of Parole in libertà: the plate entitled Ricevimento-thé-signore-nessun uomo, as well as the drawing Conflagrazione geometrica and the short stories 'Romanticismo sonnambulo' and 'Moltitudine', were published on the pages of L'italia futurista. These were followed by the novels Una donna con tre anime (1918) and Non c'è che te: Una donna con tre anime e altre novelle (1919).
Between 1917 and 1919 she illustrated books by Bruno Corra, Arnaldo Ginna and Mario Carli and created oil paintings, pastels, watercolours, portraits, lithographs, perspective maps of Florence and Rome, illustrations and ceramics. Most of these works have since been lost.
After her Futurist phase, she signed her works and letters 'Edyth Arnaldi', but in contemporary publications she was referred to as 'Edith Arnaldi'. She produced numerous colour plates for the books Le mille e una notte and Das persische Papageienbuch (1922).
Since the 1930s she was active as a photographer, and in the 1960s she returned to writing, adding illustrations to her historical treatises Eterno mediterraneo (1964) and Il fenomeno Bisanzio (1970). She participated in exhibitions in 1918, 1919, 1920, 1921, 1923, 1932-33, 1935, 1936, 1938 and 1957.
Artistically active until late in life, Edith died in Rome on 3 October 1978.
(L.H.)
Lanesborough (Massachusetts) 1822- South Wales, New York 1879
An American photographer who became famous for his photographs around Niagara waterfalls, including portraits and winter landscapes. In 1853 he settled at Niagara Falls, NY, in a pavilion overlooking the waterfalls where he would sell his daguerreotypes and ambrotypes to visitors. He was active until 1870 and had George Barker as his assistant. His stunning daguerreotypes provided visitors to the Niagara Falls with memories of the incredible view to take home and the undeniable evidence that they had been standing on the rim of the waterfalls. Babbit gained the monopoly over the American side of the falls and produced thousands of pictures over a span of about 20 years.
Attilio Badodi (Reggio Emilia 1880 – Milan 1967) began working in photography in his native city of Reggio Emilia, spending time at the studio of a photographer uncle. He arrived in Milan at the age of 22, attracted by big city life, and six years later he opened his own photographic studio at via Brera 5. Shortly thereafter, his passion for the theater brought him into contact with showbusiness and cultural figures, many of whom came to his studio for portraits. His participation in the first International Photography Exhibition of Turin in 1922, and his presence as official photographer for the wedding between Edda Mussolini and Galeazzo Ciano in 1930 must surely be considered among the most important events of his career. In 1965, becoming increasingly aware of the general decline of interest in "artistic poses" offered by studios in favor of new technologies offering snapshots, Badodi declared that he had no interest in keeping up with the times and ceased his activity.
Vincenzo Balocchi (Florence 1892 - 1975) came to photography after having earned his engineering degree in Turin in 1921. Returning to Florence, his native city, he worked for some years as a manager at the Fratelli Alinari firm, during which time his passion for photography deepened. Indeed, at the end of the 1920s, Balocchi left Alinari to found the Istituto Fotocromo Italiano (Italian Photochrome Institue), which was specialized in the photographic reproduction of works of art. From 1936 to the 1960s he was a leading figure in Italian artistic photography and one of the founders of the "Gruppo fotografico fiorentino" (Florentine Photographic Group), of which he served as vice president for many years. In the meantime, in 1948, he joined the "Bussola" (Compass) photographic society, founded the previous year by Giuseppe Cavalli, Federico Vender, Mario Finazzi, Ferruccio Leiss and Luigi Veronesi. During this period, Balocchi's participation in Italian and foreign exhibitions, important salons and specialized journals intensified.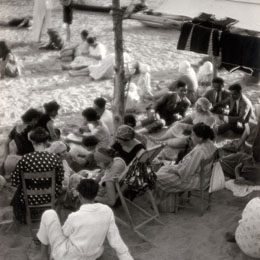 Carlo Baravalle (Volpedo 1888 - Turin 1958), who was a criminal lawyer by profession, began participating in photographic competitions as an amateur. In 1923, together with Bricarelli and Bologna, he acquired and edited the Milanese journal Il Corriere Fotografico (The Photographic Courier), relaunching it and bringing it to Turin, where he remained as co-director of this journal and the annual publication Luci ed Ombre (LIghts and Shadows). In 1928 Baravalle moved to Milan to become the administrator of Tensi, a firm specialized in the production of photographic materials. He made a significant contribution to photography in Turin during the 1920s and 1930s, the result of both his creative works, inspired by Guido Rey and painters such as Pellizza da Volpedo (another native of Volpedo), as well as the strength of his photographs: their composition and the interplay between light and the shadows cast by objects. His works often focus on natural subjects, especially mountains, where he privileged "pastoral" and enchanted themes with soft focus techniques, such as the series dedicated to Varazze and to still life subjects. His love for nature was confirmed when, after World War II, his photographic output gradually subsided as his interest in floriculture at his property in Volpedo grew.
There is only scant and uncertain biographical information about Antonio Beato (? apx.1825 - ? apx.1903). His birth can be dated to between 1820 and 1825; he later would become a British citizen, and follow his brother Felix to India, where he must not have remained for very long, for as early as 1862 he was known to be based in Luxor, Egypt. There Beato started a photographic studio and, especially between 1870 and 1888, made many images devoted to a systematic inventory of monuments, architectural ruins and tombs from ancient Egyptian civilization. He probably died in 1903, perhaps without ever having returned to Europe. In 1906, his widow sold all her deceased husband's property by placing advertisements in many European newspapers specializing in photography.
The exact place and date of Felice Beato's birth (Corfù? 1825? – Mandalay 1904) remains unknown. However, the confusion regarding his brother Antonio (both became naturalized English citizens) has been definitively clarified thanks to the research of Chantal Edel at the Bibliothèque Nationale of Paris, the results of which were published in Italy by Italo Zannier. Felice Beato's activity was documented in Constantinople from 1853, along with that of his brother-in-law James Robertson, an English photographer and director of the Mint of Constantinople. In 1855, following the work of Roger Fenton, Robertson and Felice Beato carried out a photographic campaign in Crimea, documenting the conflict there. In 1857 the two men moved to India, where they photographed the massacres of Lucknow, while in 1860 their presence in China was documented by war reportage photographs at Fort Taku. In China, Felice Beato met the English artist Charles Wirgman, who had moved to Japan in 1861. Although it is not certain that Beato followed Wirgman to Japan at that time, in 1863 Felice appeared in the register of the Yokohama Foreign Settlement, and in that city he opened a photographic studio that would soon became famous and influential for local photographic production, such that it became the center of a "school" based on his style. He established a venture with Wirgman called "The Japan Punch", the first English-language journal in Japan. The repertoire of images taken by Felice Beato during his period of activity in Japan is documented by two collections, The views of Japan (1864) and Native types (1868). According to Terry Bennet, Felice Beato lost many of his stored photographs in the great fire at Yokohama of 1866, and later worked hard to rebuild his archive, until 1877, when he sold the entire collection to the Austrian Baron von Stillfried. He left Japan in 1884, and after this year news regarding him thins out; he probably dedicated his efforts to commercial activities other than photography, as evidenced by the last bit of information we have about him, which places him in Burma in 1904, where he probably directed two Arts and Crafts stores.
Meximieux, Lyon 1820-Lyon 1889
Jean Baptiste, called Alphonse by his family, after being a gym teacher became an itinerant daguerreotypist in 1845 circa. In Italy he was first in Genoa (from at least 1846 until 1850 with his studio at Palazzo Pallavicini), then in 1855 in Florence (first at 434, S. Maria in Campo and then at 5, Via dell'Oriuolo) and from 1856 in Naples (first at Via del Boschetto della Villa Reale and then at 256, Via Toledo, Palazzo Berio). He also opened a branch in Leghorn at 71, Via Vittorio Emanuele. An appreciated and refined portrait artist, he took part in several exhibitions of photographic art in Italy and in France and became the photographer of the Borboni Court and of "H.M the King of Italy". Alinari Archives preserve, beside several vintage prints, carte-de-visite and stereograms, two daguerreotype men's portraits (DVQ-F-001777, DVQ-F-000103) and a daguerreotype portrait of the Borromeo family, attributed and most likely made in collaboration with Lossie (DVQ-F-002395).
Nicola Biondi's (Capua 1866 – 1929) talents were for drawing and for the figurative arts; together with a clear passion for nature in all its expressions, these led him to enroll in the Academy of Fine Arts of Naples. He drew, painted and ceaselessly experimented with many techniques. He was primarily interested in photography as a way of exploring his primary art, and thus considered it to be a base upon which he could develop his painterly themes of intimate observations of rural and pastoral life at the end of the nineteenth century.
Louise-Auguste and Auguste-Rosalie Bisson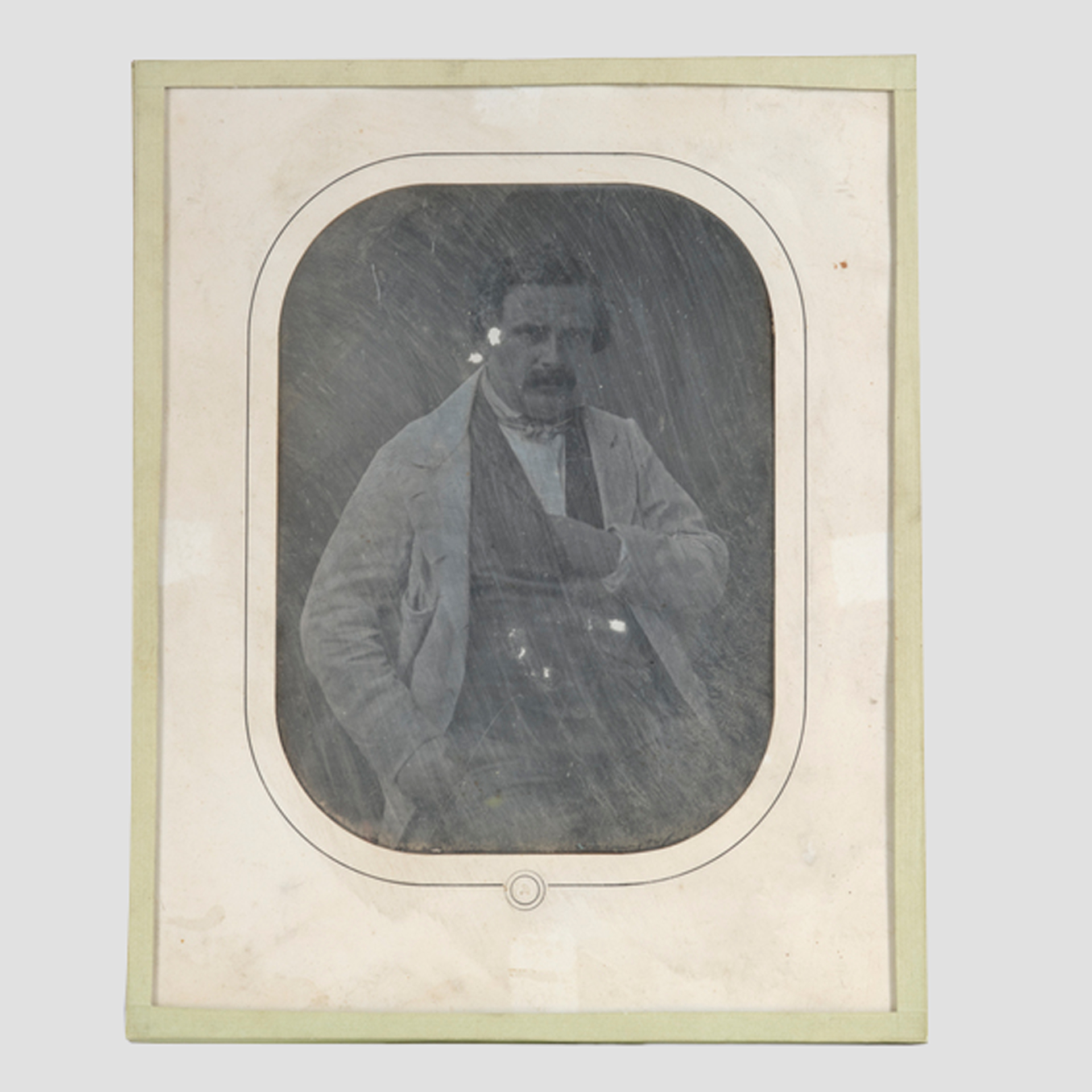 Louis-Auguste Bisson (1814-1876) studied architecture whilst his younger brother Auguste-Rosalie (1846-1900) was a weight and measure controller at Ramboutin. His activity as a daguerreotypist started at the side of his father Louis-François, a painter. In 1840 the two brothers founded the Bisson Sons company which was immediately successful and later on became Bisson-Brothers. Louis-Auguste gained his reputation in the 40s of the nineteenth century for the ethnographic and anthropologic works he was commissioned with. In particular he photographed the collection of plaster skulls and busts belonging to phrenologist Pierre Marie Alexandre Dumoutier. Beside printing other photographers' clichés, the two brothers specialized in large format art photography. They worked together until 1864 when Louis-Auguste retired whilst Auguste-Rosalie carried on collaborating with Léon and Levy and Braun. They took part in several international exhibitions: Paris in 1844, London in 1855, 1857, 1858, 1859 and 1862, Berlin in 1865. They utilized wet collodion technique as well as dry- and aluminate techniques on larger than one meter formats; they experimented new techniques such as the use of filters, gilding and silver-coating plates by electrolysis; they took aerial photographs and patented photography on transparent paper. They also produced a large and eclectic collection of subjects: portraits, landscapes, events, art reproductions, animals, scientific subjects and reproductions for industrial purposes, as well as natural findings, the portraits of the nine hundred members of the National Assembly (1848-1849) and relief maps of Europe (1853), the crystals illustrating M.A.A. Gaudin's thesis (1865), architectural monuments in France, Germany, Switzerland and Italy, the earthquake in Valais, the ascent of Mont Blanc (1860 and 1869) and the siege of Paris (1871). With Lacan they founded the Societé Française de Psychanalise (S.F.P.). Alinari Archives keep several vintage prints of views and of Italian and French monuments, the ascent of Mont Blanc, the album of Albrecht-Durer engravings (AVQ-A-000493), the Crimea war and a daguerreotype portrait.
Louis Désiré Blanquart-Evrard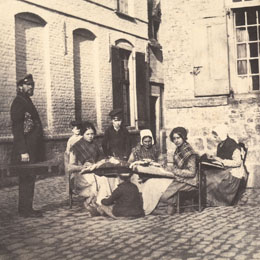 The good fortune that Louis Désiré Blanquart-Evrard (Lille 1802 - 1872) enjoyed in photography was thanks to his perfection of the calotype process, invented in 1841 by William Henry Fox Talbot. Blanquart-Evrard had learned the calotype process in 1844 from Tannerin, an collaborator of Talbot's, and towards the end of the decade succeeded in designing a type of paper that reduced development time to six seconds to print photographs taken in sunlight and thirty seconds for those taken in the shade. This system allowed photographers to take over four thousand positives in a day and led to greater efficiency in the publishing field. The strong solution of sodium thiosulfate used for fixing lent the positives realized using the Blanquart-Evrard method a characteristic slate gray color, contrasting with the purplish tones typical of Talbot's productions. In the summer of 1851 his company, Imprimerie Photographique (Photographic Print Shop), founded in Lille in 1850, published the first issue of the Album photographique de l'Artiste et de l'Amateur (Artist's and Amateur's Photo Album), a complete copy of which is kept in the Alinari Museum. The work consisted of a folder containing thirty-six positives realized using the new method, and was intended to serve as a summary demonstrating all the areas in which photography could be useful, as well as provide an essay demonstrating the technical progress of the medium. The subjects of the images are diverse, including reproductions of works of art, sculptures, monuments, landscapes, genre scenes, and shots taken by different photographers from different countries, always in the style of romantic lithographs, and elegantly mounted on cardboard. The sale of a considerable number of copies of the album seems to have led Blanquart-Evrard to expand his print studio the following year, constructing a large building, similar to a factory, where he employed up to forty assistants, mostly women, in order to be able to move on to large-scale production. Without doubt one of the masterpieces of Blanquart-Evrard, due to the quality of the printing, is the album Egypte, Nubie, Palestine et Syrie (Egypt, Nubia, Palestine, and Syria), containing one hundred twenty-two prints made from negatives taken by the writer Maxime Du Camp between 1849 and 1852, during a trip to the Middle East in the company of the novelist Gustave Flaubert. In the mid-fifties Blanquart-Evrard had to close his printing house for financial reasons, although its catalog of published works had made him famous, and many of the calotype authors of the period, such as Marville, Green, Le Secq, Sutton and Salzmann, had him to thank for the printing of the majority of their photographs.
1799-1859
He was active in Turin as of 1839 and in 1844 opened his studio at 13, Via Carlo Alberto. In 1856 he joined his son Filippo's company and stayed with him until 1859. His studio was the meeting place of many artists from Turin and the source of novelties; there he started collaborating with other photographers such as Garcin (with whom he shared his studio at 13, Via Carlo Alberto until 1861) and Auguste Meylan. In 1861 he moved his studio to 23, Via Carlo Alberto. At his death the studio was handed over to Leone Tua, the founder of Fotografia Roma and the following year to Ecclesia & Rondoni. Alinari Archives contain three daguerreotypes signed by Boglioni and one by Boglioni & Garcin.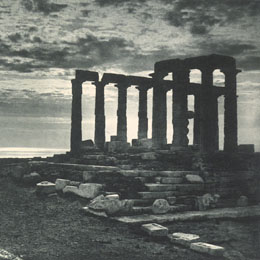 A native of Geneva, the Swiss Frederick Boissonnas (1858-1944) came from a family of photographers active in that city for four generations. Upon his arrival in Greece in 1903, he became the most important photographer in that territory at the beginning of the twentieth century. In 1910 he published the album Greece through its mountains and valleys, followed by another important series of albums entitled Images of Greece.
After dedicating himself to bookbinding for several years, Felix Bonfils (St. Hippolyte du Fort, 1831– Alès, 1885) began to work in photography and heliogravure around 1860, under the supervision of Niépce de Saint Victor, grandson of Nicephore Niépce. In 1865 he opened a photographic studio in Alès, in southern France. Infatuated with the beauty of Lebanon, where he completed his military service, he decided to move with his family to Beirut in 1867, where he established an atelier. With the assistance of his wife Lydia, he built a successful business, to the extent that in 1870 his catalog contained 15,000 prints reproduced from 591 negatives depicting Egypt, Syria, Palestine and Greece, as well as over 9,000 stereoscope views. Aimed primary at travelers and artists, his photographs were sold as single prints and as preformatted albums. Of particular note is the five-volume set Souvenirs d'Orient (Souvenirs from the Orient), published in Alès in 1877-78, with photographs of the most important sites in the eastern Mediterranean, from Egypt to Constantinople. After his death in 1885, his wife and son Adrien continued to run the atelier until 1918, when it was sold to Abraham Guiragossian, who had been a partner since 1909. Guiragossian continued to produce photographs until 1938, when the atelier was permanently closed.
Initially a bank employee, Samuel Bourne (1834 - 1910) dedicated himself to professional photography beginning in 1857. In the wake of the great photographic expeditions of the period, aimed at documenting almost-unexplored territories, in 1863 he undertook a voyage to India. There he photographed many different regions and climbed the Himalayas, accompanied by thirty coolies who carried his luggage and photographic equipment up to an altitude of 4500 meters. Together with Shepard, he later founded a photographic distribution firm, first in Simla and, in 1870, in Calcutta. After he became the owner of a cotton factory, Bourne began to divide his time between India and England, but as much as time allowed, he remained active in photography until the end of his life.
New York 1823 – 1896
In 1843-1844 he is registered as manufacturer of jewelry cases and daguerreotypes at 164, Fulton St., New York, but in 1844 he opens a daguerreotype studio on Broadway. In 1846, following the great development of daguerreotype in the United States, he opens a studio in Washington too (Pennsylvania Avenue, between 4-1/2 and 6 West). In order to meet the high demand for daguerreotypes, the production of portraits is very soon handed over to a number of operators (the first was James Sidney Brown) and Brady's name appears only in the company's signature as a quality guarantee. In 1845 Brady starts his gallery of famous American characters reproduced on lithographs. And in 1851 he leaves New York to take part in the Universal Exhibition in London. In 1860 Brady publishes The Gallery of Illustrious Americans, a series of twelve portraits of major American characters on lithographs; in the same year Brady makes the portrait of US President Abraham Lincoln who gives him the task to cover the Secession War, with Alexander Gardner and Timothy O'Sullivan; he therefore produces the first true war photo-reportage. Alinari Archives have four portraits signed by Brady, three daguerreotypes and one ambrotype and another daguerreotype made in 1845 ca. which is probably his own self-portrait.
Establishing himself in Venice after brief stops in Florence and in Rome, the Paduan painter Domenico Bresolin (? 1813 – ? 1899), was accepted as an 'artist associate' in the Venetian Academy of Fine Arts on 13 May 1830. He used photography as a tool to perfect his painting, especially with respect to the use of perspective and realism. He produced high quality photographic prints characterized by rigorous compositions that depicted Venetian buildings in a spirit of systematic photographic documentation. He initially produced calotypes and later wet plate negatives. In 1864 he was nominated Professor of Landscape at the Academy and abandoned his photographic activity in order to dedicate himself exclusively to painting, whereupon he sold his archive of plates to the photographer Carlo Ponti.
Like Leopoldo Alinari, Giacomo Brogi (Florence 1822 – 1881) arrived at photography after a career as an engraver and retoucher. From the early age of eleven, he worked at Batelli publishers and studied at the Perfetti's famous school of engraving. He later worked under the chalcographer Achille Paris as a retoucher, and after his marriage in 1846, began to work as a retoucher in his own right with a commission to work on the chalcographs of Luigi Bardi. After establishing his reputation printing addresses, labels and coats of arms in Florence, he partnered with an unknown portrait photographer, who created portraits of famous individuals that Brogi inserted into elegant coats of arms of his own design. At the beginning of the 1860s he decided to leave behind his anonymous partner and, with the help of Tito Puliti, then director of the La Specola Museum, opened his own studio, "Giacomo Brogi, Photographer". As early as 1861, he participated in the Italian Exhibition in Florence, and the next year published his first catalog of photographs. Beginning in 1866 the studio operated out of Lungarno alle Grazie 15, with support facilities at Corso dei Tintori 79. Though it may be true that portraits made up the main repertoire of Brogi's production, he did not neglect the classic subjects of the early period of photography: landscape photography and the reproduction of works of art and architecture. To this end, it is important to remember the celebrated photographic campaign that, around the 1860s, led him to visit the Holy Land and that would result in the production of the Album of Palestine, whose 60 images are accompanied by texts in Italian and French, similar to a piece of photojournalism. Giacomo gave a copy of this album, today split up, to Pope Pio IX, while the only known copy still in existence is kept at the Fratelli Alinary Photographic History Museum. Giacomo, in the space of a decade, managed to make great strides with the company, which opened branches in other cities, such Rome, Naples, and Bowinkel, and his fame, above all as a portrait photographer, grew greatly, so much so that in 1878 he was named Photographer to the King. Brogi also participated in numerous Expositions in the 1870s, such as those of Forlì, Vienna and Milan, where, in 1881, he won the silver medal. In the same year Giacomo died, leaving the firm to his sons Carlo and Alfredo.
Giorgio Brunner (Trieste 1897 – 1966) moved with his family from his native city to Zurich at a young age, and it was in the Swiss Alps that he began mountain climbing. In 1921, at the tender age of 24, he graduated with a degree in electrical engineering and moved back to Trieste, where his passion for the mountains continued to grow. Brunner began to take on important climbs, first in the Julian Alps and, subsequently, along the whole chain, until 1966, when he completed his last ascent, up Creta Grauzaria. Brunner's interest in photography found its natural expression in representations of alpine landscapes, of which he had profound knowledge, and which he interpreted with passionate lyricism.
In 1859, Julia Margaret Cameron (Calcutta 1815 – Ceylon 1879) moved from Calcutta, where she was born, to Freshwater Bay, on the Isle of Wight, with her husband Charles Hay Cameron, an elderly army colonel. She came to photography at a mature age, probably after a period of depression, from which she apparently emerged as the direct result of a gift of photographic equipment received from her daughter in 1860. She did her "training" photographing friends who visited her home, and who it seems were convinced to cooperate by Julia's strong personality. On the Isle of Wight, the photographer was surrounded by a lively creative culture, as her neighbors included some of the period's most important figures, such as the poet Tennyson, Carlyle, Herschel, Darwin, Browning, Longfellow and, above all, the group of painters that formed the "pre-Raphaelite Brotherhood".
She drew particular inspiration from the pre-Raphaelites, to the point that she once wrote on the bottom of one of her own photos, "decidedly pre-Raphaelite". It's true that, looking beyond her portraits of important individuals, where Cameron attempted to "record[] faithfully the greatness of the inner as well as the features of the outer man," in her photos of her private world, Cameron's style tends towards a sentimentalism of indubitable pre-Raphaelite characteristics, both in her choice of subjects and in her rendering of them. This genre of her photographs is therefore composed mostly of costumed portraits, tableaux vivants in which friends and family acted out scenes from literary works, in order to communicate religious and moral messages.
From this perspective, Cameron can be considered one of the leading figures of the Pictorialism movement, developed in England by Henry Peach Robinson and Oscar Gustav Rejlander (who Cameron had even invited to Freshwater Bay so that "his great abilities might be of use to her"). But what renders her truly unique as a photographer is her abandonment of "sharpness". As her fundamental goal is to communicate a poetic aura and lyricism, she frequently subverts the technical rules of photography, using of numerous techniques in order to obtain evanescent and unfocused visual effects, which have led to some criticism of her work, but were in fact fully intentional. The first work documenting Julia Margaret Cameron's complex work and character was compiled and edited in 1926, by her great-niece Virginia Woolf.
Giacomo Caneva (Padua 1813 - Rome 1865) got his start in the figurative arts as a perspective painter, interested in architecture and aeronautics. In 1838 he moved to Rome where he settled definitively, and at the end of the 1840s, he learned photography and, in particular, the daguerreotype and calotype processes. In 1847 he produced a signed and dated calotype of Piazza Bocca della Verità, today considered the oldest calotype image taken by a resident of the city. In the 1850s he joined the Circolo Fotografico Romano (Roman Photographic Society), founded by the painter and photographer Frédéric Flachéron with the intention of learning new techniques to use on the most famous sites in the city. His photographic output, however, also includes scenes of the Roman countryside and traditional costumes, as well as reproductions of works of art. Among the first Roman photographers, Caneva formed a partnership with Tommaso Cuccioni, the contents of whose photographic studio he would inventory in 1864. In 1855 he published a manual on the technical aspects of photography entitled Della fotografia. Trattato di Giacomo Caneva, pittore prospettico. (On Photography. A Treatise by Giacomo Caneva, Perspective Painter), a demonstration of how important the technical aspects of the craft were to the pioneers of the photographic medium.
Mario Castagneri (Alessandria 1892-Milano 1940) was a painter and photographer originally from Piedmont. Like his brothers Oreste and Attilio, Mario got his start in the world of art, studying at the Academy of Fine Arts in Turin. As a young man he worked as an assistant in various photographic studios, until, in 1915, he opened a studio of his own, on Corso Garibaldi in Milan, specializing in portraiture.
He became involved with the Lombard art world, associated first with the artists of the last generation of the "Scapigliatura" (Italian bohemians), and later subscribing to the Futurist movement. During this part of his career, he became friends with Marinetti and Depero, of whom he took many now-famous portraits, and established himself as an expert in a number of typical avant-garde techniques such as photo-montage and superimposition. Particularly important among his photos is the suggestive series of images, extraordinarily modern, of artists' hands, in many cases the Futurists.
The twenties marked the apex of his career. Castagnieri became the official photographer for the Scala opera house in Milan, at the time under the directorship of Toscanini, photographing most of the singers and musicians in program. At the same time, he opened a new studio in Milan with two colleagues, whose fame was growing, Crimella and Zani, specialized above all in architecture photography. He went on to study with the brilliant Emilo Sommatica; however, they quickly became competitors. In 1924 Marinetti awarded him a commission to document the "First National Futurist Congress" in Milan. In the second half of the decade he was also exceedingly busy: Castagneri participated in various photographic exhibitions, including the National Exhibition of 1927 in Monza. He definitively left photography behind in 1929, and devoted himself passionately to the restoration of old paintings.
Born in Lucera, Foggia, in 1904, Giuseppe Cavalli (Lucera 1904 – Senigallia 1961) was a versatile man. A lawyer, man of letters, great commentator on the work of Benedetto Croce, lover of music and gastronomy, and occasional race-car driver, Cavalli was a key figure in the Italian cultural landscape of the period. As a photographer, he is also remembered as the founder of two important groups: "La Bussola" (The Compass), est. 1947, and the "Misa" group, est. in 1943 in Senigallia, with Mario Giacomelli as treasurer. Cavalli had a strong influence on Giacomelli and on numerous other Italian photographers, but often clashed with Paolo Monti, creator of the rival Venetian group "La Gondola. In contrast to Monti, he had a personal idea of poetics, both lyrical and categorical at the same time: he asserted that what counted was not the subject but the composition, and the contrast between dark and light was extremely important to him. Thanks to his knowledge of the techniques and history of photography, Cavalli is recognized for having started a new national debate on photography, which was necessary in the difficult postwar period of reconstruction, in the face of an Italy frustrated by the long fascist period and the traumatic years of the Second World War.
Gustave Eugène Chauffourier
Of French origin, Gustave Eugène Chauffourier (Paris 1845 – Rome 1919) began his activity as a photographer in Palermo, around 1860, opening the Photographie parisienne (Parisian Photography) company in partnership with Perron. In the 1870 he can be found in Naples and the the following year in Rome, where he moved to document the city's transformation into the new capital of Italy. After his death, his sons Pietro and Emilio continued and expanded the paternal photographic work until 1919. A catalog of Chauffourier's rather large body of work was never published. However, his son Pietro numbered all his father's negatives according to the practice of the time. The archive is preserved between Rome and Florence. This material includes panoramas, monuments and works of art from various Italian cities. Unfortunately much of it was damaged during the flood of 1966 in Florence.
Henry Chouanard (Nice 1883-Paris 1936) studied in Paris as an engineer, graduating from the École Centrale Polytechnique, and soon became interested in the autochrome process developed by the Lumière brothers. Since the commercial debut of this process in 1907, he produced his first catalog of prints during a voyage in Morocco that are the the first images of the country, preceding even those from 1911 preserved at the Albert Kahn Foundation in Boulogne. Chouanard's body of work covers the entire chronological span during which the process was in use, and is significant for its stylistic coherence. Alinari holds in the archive many autochromes, from which have been recovered views of the Maghreb from the beginning of the twentieth century, as well as other images of rare beauty from all over Europe.
Antoine François Jean Claudet
Lyon 1797 – London 1867
A French photographer and inventor he moved to London in 1829; a student with Louis Daguerre he was one of the first portrait daguerreotypists active in London with his photographic studio initially in the mansard of Adelaide Gallery (1841-1851), later on at Colosseum on Regent's Park (1847–1851) and then at 107, Regent Street (1851-1867); his studio became known as the 'Temple of Photography'. The improvements he made to sensitization techniques helped to reduce exposure times by 20-40 seconds; in 1842 he adopted stereoscopy. Claudet became a member of the Royal Society in 1853 when he was also appointed court photographer by Queen Victoria and in 1863 he was awarded a prize by Napoleon III. A month after his death in 1867, his studio went on fire and most of his negatives as well as many of his pictures were lost. His son Henry gradually resumed his father's activity. Alinari Archives own 5 colored portrait daguerreotypes by Claudet, one of which is stereoscopic.
In 1851 the English photographer Charles Clifford (1800 – 1863) made his first trip to Spain, and the following year, moved to Madrid. Here, he executed a portrait of Queen Isabella that won him the protection of the Spanish court. In Spain, besides portraits, he also produced many images of landscapes and monuments, bringing to light a country that had heretofore remained closed and rather inaccessible. The presentation of his images to the London Photographic Society won him the admiration of Queen Victoria, who purchased many of his image for her Windsor collection, and in 1861, during a stay in England, the queen asked him to execute a portrait of her to be later reproduced as a painting. In the end the Queen judged Clifford's photographic image to be the better of the two versions.
Interested in art from a young age, Luca Comerio (Milan 1878 - 1940) learned the rudiments of photography by visiting the studio of the painter and photographer Belisario Croci, and in 1894, he purchased a camera and began his own business. His earliest work, a secret photograph taken of Umberto I during a visit to Como, was a first step towards realizing Comerio's interest in documenting current events, making him a pioneer of photojournalism. In 1898 he recorded the workers' protests in Milan and published an article in the journal "L'Illustrazione Italiana" (Italian Illustration). Driven by his interest for informing through images, Comerio began to study film as well, founding the "Società Anonima Fabbrica Films Italiana Luca Comerio" (Luca Comerio Italian Filmmaking Company) in 1908, and "Comerio Films" in 1910. In 1908 he also documented the damage of the earthquake in Messina and Reggio, while in 1911 he covered the war in Libya in photographs and in film. When Comerio became the photographer of the Royal House, he further expanded his cinematographic activity with increasingly complex projects that required significant financial investments. But, at the beginning of the First World War, visual journalism developed at an unprecedented rate, and the acute competition between journalists meant that not all would be able to continue working in the field. Indeed, at the end of the war, financial difficulties forced Comerio to close his cinematic projects, and after 1920, he also stopped working as a photographer.
Educated in chemistry, Giulio Corinaldi (1905-1973) became interested in photography from a young age, traveling widely in Italy, France, England, Greece, Spain, and Israel, capturing with his camera the most beautiful and poetic landscapes. But it was in Venice that he dedicated the bulk of his energies, exploring a difficult and elusive subject through use of light, framing and other techniques. At the base of this poetic choices lies an idea of beauty and harmony, and he was convinced that "photography in the hands of an artist ought to also be an expression of poetry and imagination, so as to create a poetic universe." In these socially and ideologically intense years of Italian photography (as well as photojournalism worldwide), Corinaldi instead chose a poetic-documentary path, focusing on the faces of common and modest people, lingering on the atmosphere surrounding them in order to challenge the banality of daily life. In this choice Corinaldi was deeply influenced by French humanist photography around the Second World War, such as the formal rigor of the work of Werner Bishof. The precious photographic archive of Giulio Corinaldi (1905-1973) consists of 1,719 original prints - mostly 30x40 in black and white and in color - produced over the course of his amateur career.
Active in Acquapendente as of 1860
Little is known of Crisanti, who was active in Acquapendente in the Vatican State, today in the province of Viterbo, as early as 1860. In the advertising poster of his photographic studio at 39, Via del Papiro he illustrates the photo novelties available there: a crystal covered gallery allowing to shoot a portrait at any time of the day; a special camera for stamp format portraits and children's portraits but most of all the possibility of having a direct positive image on crystal also printable on paper. Keen on new technical findings, he used the system patented by Leandro Crozat for double back colored portraits and acquired the license to use it in January 1866. Alinari Archives preserve a display board that would contain 57 ambrotypes but now only 56, some of them showing handwritten inscriptions reporting the time and the date of their making on the back.
Giovanni Crupi (Taormina 1859 - 1925) was a photographer active in Messina and Taormina from 1885, primarily known for having introduced the more famous Wilhelm von Gloeden to photography. From 1901 until 1910 he was active in Egypt at Heliopolis, while his grandson Francesco Galifi managed his photographic studio in Taormina. His images of the archaeological sites of Taormina, Syracuse and Agrigento reveal a markedly poetic and individual character as well as a refined photographic quality, suggesting that Crupi and his photographic career merit closer study.
Antonio D'Alessandri (L'Aquila 1818 - Rome 1893), a priest and a native of l'Aquila, introduced the wet plate photographic technique to Rome upon returning from a trip to Paris in 1851. From 1856-1865, he ran his own studio, and beginning in 1865 he partnered with his brother Francesco Paolo. During this period their studio expanded, to the point that they even opened a branch in Naples. The Fratelli D'Alessandri studio was particularly popular with the Roman nobility, among dignitaries of the Papal Court, and with the Bourbon court, which had moved to Rome in 1862 after the siege of Gaeta. Antonio was certainly the more famous of the two brothers: he became "Papal Photographer", producing numerous portraits of Pope Pius IX that won him great fame. Furthermore, as a member of the Societe Francaise de Photographie (French Photography Society) since 1864 , he was on excellent terms with Nadar, who held in high regard his esteem and friendship. The Fratelli D'Alessandri studio participated in many exhibitions, such as the Exhibition of Florence in 1861, that of Rome in 1870, Milan in 1881 and at the Espozione delle Arti e dell'Industria (Exposition of Arts and Industry) of Rome in 1890, where they were awarded the silver medal.
Active in Turin from the beginning of the century, Gian Carlo Dall'Armi (Turin 1881 - 1928) participated enthusiastically in the photographic events that took place in the city during that period, with notable success, to the extent that in 1909 two of his photographs were published in the magazine "La Fotografia Artistica" (Art Photography).
Dall'Armi photographed many different subjects: from academic portraiture and the reproduction of works of art and architecture, to reporting on socially relevant topics, such as the series of documentary photographs of the Fabbrica Italiana Proiettili (Italian Projectile Factory), completed in 1920. For this reason the critic Italo Mario Angeloni described the photographs exhibited by Dall'Armi at the "Prima esposizione internazionale ottica e cinematografica" (First International Optic and Cinematographic Exposition) in 1923 as a "varied body of work". Dall'Armi's studio remained in operation until 1951, under the direction of his wife Giovanna Andrate.
(1860 - 1890)
Celestino Degoix was a photographer of French origins, working in Genoa. He began his activity around 1850, when some of the most important studios of the time were flourishing there, as those of Ciappei, Giovanni Battista Sciutto and Alfred Noack, who came from Dresden and was without question the leading photographer in Genoa. Degoix, who for a while had a studio on via Nuovissima 7 with a partner of foreign origins, a certain Hodcend, devoted himself particularly to photographing Ligurian landscapes, with splendid panoramic views which make up a fascinating document of the Ligurian lands, including those around Genoa. Celestino Degoix was also named official photographer of the Museum of Natural History in Genoa at Villetta Di Negro, after having realized in 1875 a unique entomological photographic catalogue of nature subjects, plant and animal, an album that is still outstanding on all levels. So the figure of Degoix have to be necessarily inserted in the history of photography of the second half of the nineteenth century, when there were few photographers furthering the technical knowledge and contributing to the definition of the importance of photography in scientific and social study.
Active 1845 - 1852
A portrait photographer from Lyon he settled in Paris where he was active from 1845 to 1852 with his studio at 3, Rue des Prouvaires 3, close to rue St-Honoré; there 's a single mention of him in 1851 on the magazine "La Lumière". He is better known for his large body of work and the ads glued on the back of some of his daguerreotypes boasting the production of 12.000 portraits in three years. We know he is the inventor of a process he called "Derussy system" (according to ads "known to him only") and he is famous for post-mortem portraits and for being one of the first photographers to do nudes. Alinari Archives contain 4 portrait daguerreotypes by him.
André Adolphe Eugène Disderi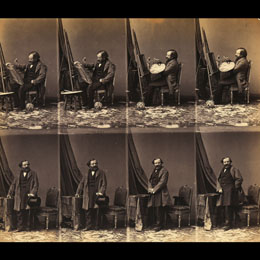 André-Adolphe-Eugène Disdéri (Paris 1819 – 1899) like many other early photographers, came to the "new art" of photography through painting. Despite the fact that his photographic production began in 1848, his popularity wouldn't truly explode until six years later, when he arrived in Paris and opened a studio on the Boulevard des Italiens, in competition with Nadar. The reason behind his success was undoubtedly his grand invention, the carte-de-visite photographic technique. Patented by Disdéri in 1854, it used the collodion process, and dealt a death blow to the daguerreotype process then in vogue. In order to obtain these small portraits (circa 6x9 cm), Disdéri first exposed the negative on a wet plate, using a special camera equipped with four lenses and a sliding plate-holder. On each half of the plate, the photographer could make four exposures, therefore allowing each negative to contain eight images, each a unique pose. The process made economic sense and did not require any special skills; the photographer's and printer's output was therefore multiplied by eight. Disdéri spread his technique of series portraiture around the world, thus beginning the trend that would bring the possibility of being photographed to all levels of society, similar to the way that the stereoscope democratized travel souvenirs. In the following years, the fame garnished by Disdéri – a brilliant man and already a very public figure – continued to grow, so much that, according to the testimony of a German visitor, the photographer's studio was "a true temple of photography; a place unparallelled in luxury and elegance. Every day he sells portraits ranging in price from three to four thousand francs." He even met with the approval and favor of Emperor Napoleon III, a photographic enthusiast himself and a cherished customer (due, in no small part, to the fact that Disdéri's principal competitor, Nadar, was a fervent republican). Despite the fact that Disdéri had also devoted himself to capturing folkloric scenes, portrait photography remained the cornerstone of his output, to the extent that he developed a specific photographic method for his studio work: full-figure shots were taken against a background and setting that flattered the sitter, with fine furniture and furnishings, offering the appurtenances of a prestigious social role, which did not always correspond to the truth. In short order, however, the growing popularity of the carte-de-visite method and format, quickly adopted by photographers the world over, rendered Disderi a victim of his own invention: in 1877 he turned over his studio and his archive to his Parisian colleagues Pougnet and Délié, and in 1890 he died in a hospital in the French capital, blind, deaf, and penniless.
Department of Seine-et-Oise 1817 - Paris 1886
Jules Dubosq was a French inventor, photographer and manufacturer of optical instruments, among which a version of the lenticular stereoscope designed by David Brewster, the stereoscopic camera and a colorimeter. He trained as an optician with Jean-Baptiste-François (1778 - 1878) whose daughter Rosalie Jean he married. In 1849 when Soleil retired, he inherited the company known under the name Duboscq-Soleil (with the monogram "DS"). Highly demanded by major scientists of the time, Duboscq was awarded several prizes at the London Universal Exhibition of 1851 (where he introduced stereoscopy), in Paris in 1855 and 1856. In 1853 he published the Practical Rules of Photography. After Soleil's death the company merged with Pellin and its name was changed into Duboscq-Pellin and later on Pellin, at Duboscq's death. Duboscq produced several stereoscopic daguerreotypes of scientific subjects illustrating famous scientists' research-works, or still lives with animals and genre compositions. Alinari Archives keep five colored stereoscopic daguerreotypes depicting still lives, stuffed animals, optical and scientific instruments and a naturalist at work.
Canzo 1807 – Milan 1870
An eclectic and ingenious character, an optician and a scientist, in 1837 Duroni opened a shop selling optics, chemistry and physics instruments at Galleria De Cristoforis in Milan. He was the first importer of Daguerre's original equipment in Milan in November 1839. He made his first daguerreotypes in Milan and opened a portrait studio that would later on become one of the most famous in town, praised by the press. In 1845 he translated and published the Traité by Marc-Antoine Gaudin on daguerreotype portraits and was awarded the title of "H.M. the King's photographer". In 1860 he moved to salted paper and albumen print. Icilio Calzolai took over his studio in 1866; the same-name company is still active at Galleria Vittorio Emanuele II. Alinari Archives preserve eight stereoscopic daguerreotypes in their original cases that can be dated before 1855 (Dario Reteuna Collection).
Luciano Eccher (1928-2007), a mountain climber and a photographer, came to photography via his passion for mountains, which were one of his favored subjects, along with works of art, a passion shared with his son Nicola. In fact, he chose to photograph many suggestive works of painting, mostly by futurist and divisionist artists, documenting an important moment in the hostory of Italian art. In the 1980s, he began a partnership with the Province of Trentino, cataloging the region's historical-artistic heritage; many of the photographs used by the Trentine EPT (Ente per il Turismo, Tourist Office) to promote Trentino's art and tourism were taken by Eccher. Together with his climbing partner Cesare Maestri, he was one of the protagonists of an episode that will go down in the history books of the Brenta Dolomites: during a climb, on the 10th of July, 1954, his life literally hung in the balance, after he slipped and ended up dangling by a rope over an abyss. In a grand gesture of selflessness, Eccher pleaded with his friend to cut the rope and save at least his own live. Fortunately, the rope caught itself on a rock, avoiding a tragic outcome. Among numerous other climbing expeditions, he is remembered especially for his participation in the first Trentine expedition to Patagonia in 1957-1958.
Peter Henry Emerson (La Palma 1856 – Falmouth 1936) undertook studies in various fields before finally arriving at medicine, but would soon abandon his career as a physician to devote himself passionately to photography and art criticism, officially beginning in 1882. He was above all a theoretician in the world of photography; in his romantic pictures he proposed a seemingly unconventional type of photography, at least in his negation of "sharpness", advocated by Robinson and Rejlander, pioneers of "precision" pictorial photography.
Emerson was particularly influenced by the French impressionist painters, who represented their subjects using an "out of focus" quality; the expressiveness of motion and the apparent imprecision of the visual elements contrasted sharply with the mushy sentimentalism of many of the pre-Raphaelite artists, at the time in vogue in England, whose equivalent in photography was above all Robinson. In his copious writing, Emerson used the physiology of the human eye to assert that focus is singular, therefore affirming that "blurring" is a realistic element of the image. He theorized that blurriness was necessary in photography, because the medium "does not necessarily have to represent reality, but that which the human eye sees," and above all called on photographers to pay more attention to the natural landscape, to "natural" light, without manipulations, using only the specific expressive possibilities of the new medium. From this point of view, photography again took up Renaissance themes, returning to a Leonardesque atmosphere and the unitary impression that prevails over the "dramatization" of details. His fundamental essay, which also influenced the brilliant American photographer Alfred Stieglitz, is 'Naturalistic Photography for Students of the Art' (1889). In his later years, perhaps disappointed or depressed, he sarcastically refuted his theory, publishing his brief essay 'The Death of Naturalistic Photography'.
Ferruzzi was a Venetian firm based in Calle Tagliapietre. The Ferruzzi firm was born during the decades of the '20s and '30s, and reached the peak of its economic productivity in the '50s and '60s. The company ended its activities between 1975 and 1980. Ferruzzi photographs document more than fifty years of history and city life through images from the news, of cultural events (art exhibitions, festivals), of arts and street crafts, industrial and manufacturing activities (to name some: the Tobacco Factory in Venice and the foundries in Marghera) and aerial views. In addition to Venice, the most represented city, Ferruzzi productions also documented many neighboring cities. Ferruzzi photos are characterized by the clear vision of the images and the charm of snapshots in capturing moments of city life, events and personalities. Of particular interest is the documentation of customs and social life over a half-century that was characterized by rapid and profound social and cultural changes.
Armand Hippolite Louis Fizeau
Paris 1819-Venteuil 1896
After interrupting his medical studies for health reasons, he was guided to the study of physics by François Arago. His early works were made in collaboration with Léon Foucault and focused on the improvement of daguerreotype and on the first experiments with solar photography. In 1849, this time in direct competition with Léon Foucault, he made the first measurement of the speed of light in the atmosphere thanks to a device that used mirrors and a dented disc, later on further improved by Foucault (Fizeau-Foucault Apparatus). Fizeau also illustrated the applicability of Doppler effect to light waves, showing that the movement of a light source determines the shifting of the spectrum lines perceived by an observer (towards the blue when approaching, towards the red in the opposite case). This mechanism is similar to the one described ten years earlier by Christian Doppler for sound waves and largely used in astrophysics. From 1842 to 1844 he experimented engraving on daguerreotypes and produced several daguerrotypes of Paris roofs, three of which are kept in Alinari Archives and are dated between August 3rd and 8th August, 1843 (Martin Juergens).
Frèdèric, Conte Flachéron
The name of the French nobleman Conte Frèdèric Flachéron (Lyon 1813 – Paris 1883) is inextricably linked to the history of the origins of photography in Rome. He was one of the most influential figures in the Roman School of Photography, around which flocked Italian and international artistic personalities between 1847 and 1853, figures such as Giacomo Caneva, James Anderson, Alfred-Nicolas Normand e Eugène Constant, who saw photography and the calotype technique as a common aesthetic language.
Having arrived in Rome in 1839 after studying as a medal sculptor at the Royal School of Fine Arts in Paris, Flachéron established ties with the French art establishment in Rome, which gravitated around Villa Medici, above all with the painter Ingres. His first photographs date to 1848, and he worked in this field for five years, creating a series of photographic prints that bear witness to his interests in views of monuments and archeology, as well as the disastrous consequences of events in Rome in 1849. His photographic prints are characterized by an extraordinary richness and luminosity of tone, appreciated by his contemporaries in various exhibitions in which he took part.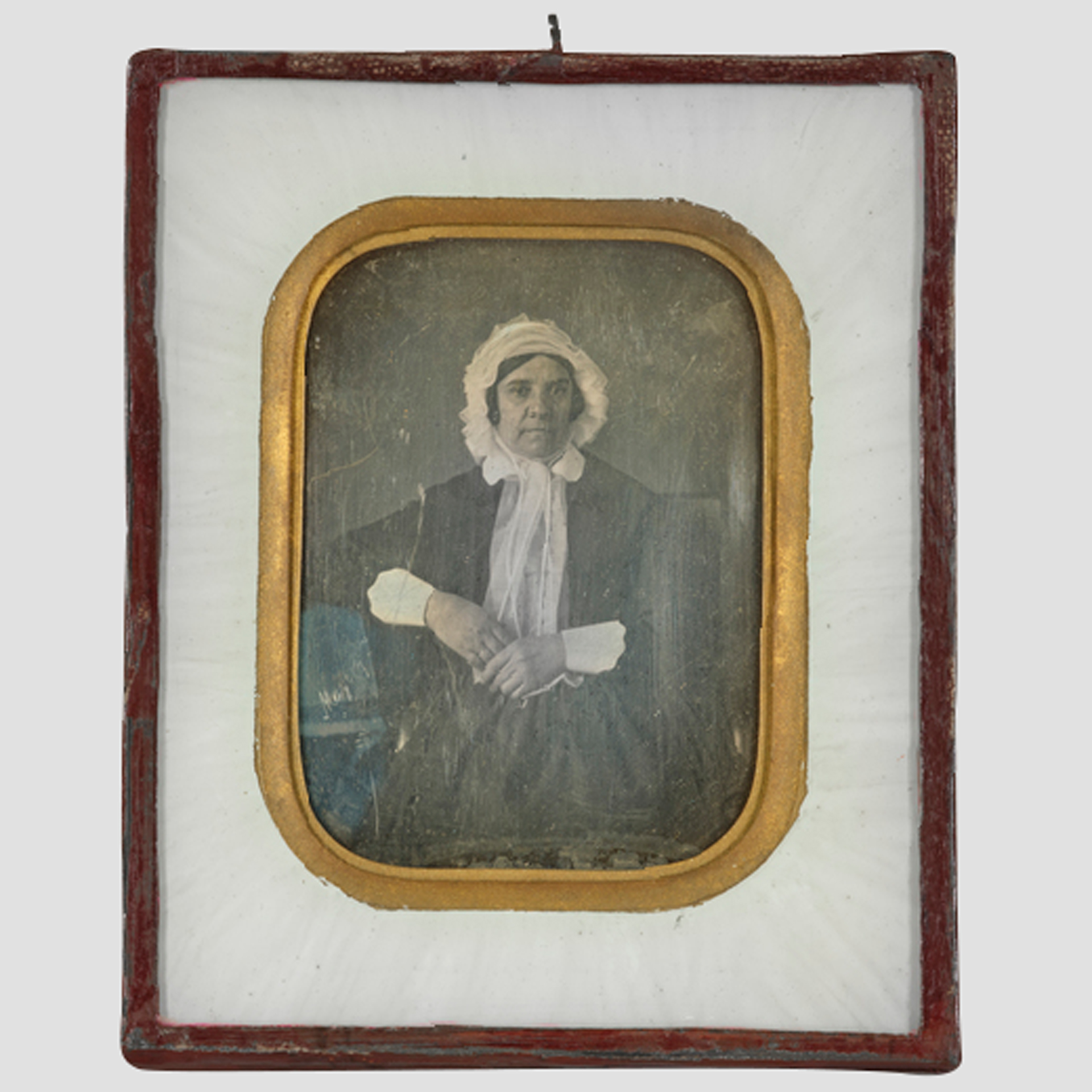 French daguerreotypysts specialized in hand-colored portraits, brothers Louis Frédéric (1822-1912) and Léopold Ernest Mayer (1817-ca. 1865) would also sell photo equipment and founded the Mayer Company in Paris; they collaborated with Louis Pierson starting from 1855 and put up a very successful company that worked fo the imperial and royal courts of Europe, including Napoleon III. Finally Pierson became the sole owner of the company (1860?) which kept its name "Mayer & Pierson" until the 70s of the XIX century when Pierson made a partnership with his son-in-law Gaston Braun. These were the Parisian addresses of Mayer Frères: Rue Vivienne 48 (1851), Boulevard des Capucines, 3 (with Pierson, 1856), Rue Louis le Grand, 35 (1857), rue Vivienne, 48 (1857). Alinari Archives preserve four daguerreotypes with 13 bis, Passage Verdeau and 48, rue Vivienne as addresses; another daguerreotype signed MAYER bears the address 102, rue Richelieu.
(Turin 1871- Turin 1938)
Functionary of the state railroad, he began as an amateur photographer in the 1890s taking photographs primarily of mountains. From 1890 he worked with the geologist Sacco, producing images for scientific texts. However, it was only in the 1920s that he began to create images that fully expressed his technical capacities and artistic sensibility, most notably the photographs that document in minute detail the architecture and social life of Turin. From 1931 he visited many worksites, documenting the great urban transformation of the city. He participated in many national and international exhibitions such as those of the ALA (Ad Liberas Alpes) and AFI (Associazione Fotografica Italiana) photographic associations, and remained active for the rest of his life.
Joseph Philibert Girault de Prangey
Langres 1804-Courcelles 1892
The only heir of a rich aristocratic family he could devote himself to study drawing and architecture. He attended the Ecole des Beaux-Arts in Paris and graduated in Humanities in 1826 and in Law in 1828. In 1836 he was one of the first founders of Langres Archeology Society. He learned the daguerreotype process in 1841 from Daguerre himself or from Hyppolite Bayard. In 1842 he went on a three year tour to Italy, Greece, Turkey, Syria and Palestine, making more than 800 daguerreotypes. His are the first photos of Acropolis. His stunning images were discovered some eighty years later, in the 20s, at a warehouse in his property. Many of his daguerreotypes are currently at Bibliothèque Nationale in Paris and at Musée Gruérien in Bulle (Switzerland). The three daguerreotypes in Alinari Archives come from a sale at Christie's, London (2003) and depict St. Peter Church at Tuscania, the Roman Forum and Genoa cathedral.
(1806 - 1869)
The majority of Graham's photographs held by the museum collection of Fratelli Alinari come from a travel album entitled "Italy" published by the Scottish photographer and dedicated to his sister Elisabeth in 1864. He took the images after a long stay in Jerusalem, where he lived between 1853 and 1875 working as a photographer. He was closely tied to the Pre-Raphaelites, including Thomas Seddon and William Holman Hunt, for whom he produced photographs that they used for their paintings. The photographs of his Italian travels date from between 1858 and 1864 and are all albumen prints from paper negatives, showing Graham's rather late use of the technique, especially suited to the painterly representations of his travels, mainly in the South. Actually, his itinerary was unconventional; departing from Turin, he arrived in Florence, and avoided Rome entirely in favor of Naples, lingering for some time in and around the city. He became fascinated not only by the archaeological monuments of Pozzuoli, Pompeii and Herculaneum, but also by the splendor of nature, especially the looming presence of Vesuvius, to which he dedicated an extraordinary photographic sequence.
Graham's photographs are very rare because he did not sell his photographs commercially. Some of his work was exhibited at the Exhibition of Fine Arts at the Palace of Industry in Paris in 1859.
Hautmann was active in Florence from the end of the 1850s with a studio on Via della Scala. Trained as a painter at the Academy of Munich, he arrived in Italy in 1874 with a scholarship in Rome. He moved permanently to Florence in 1849, first working as a sculptor and from 1858, and in 1862 also began working in photography, producing a commercial catalog of "stereoscopic views" of landscapes and an extensive number of images of famous figures and works of art. He was also known for his cartes de visite and his paintings of rocky landscapes, studies of clouds and rural and domestic scenes. His work is characterized by an interest in light and shadow that created strong contrasts of full and empty spaces.
David Octavius e Robert Hill & Adamson
The painter David Octavius Hill (Perth 1802 – Newington 1870) and the photographer and chemist Robert Adamson (Burnside 1821 – St. Andrew 1848) were among the greatest interpreters of the calotype. Both from Edinburgh, they were united in an artistic sodality with results of incomparable quality. They began collaborating in 1843 when the Free Church of Scotland commissioned Hill to make an enormous picture with the portraits of the 470 members who had left the Presbyterian Church. The most suitable instrument for this imposing task was the camera and from then on portraiture became the predominant activity of the two who made some of the finest portraits in the history of photography. Every personage photographed by Hill and Adamson was captured in an extremely natural pose, with facial expressions that revealed the innermost nature of the person, translated on photographic paper in a skilful play of contrasting black and white masses, lights and shadows which were repeated in every part of the portrait, on the hands, the clothing, the background, creating dramatic effects. It was not the detail and the perfection of the detail, prerogative of the daguerreotype, they sought, but the effect of chiaroscuro, light and shadow, close to drawing and painting which only the paper negative could render. Their photographic eye immortalized not only figures from the upper classes, but also the common people, sailors, fishermen, the peasants and landscapes of Scotland in a perfect marriage of technique with artistic pursuit. After the premature death of Adamson, at twenty-seven years of age, Hill returned to painting, unable to achieve that natural and perfect balance with the camera that had made the two of them famous as Masters in the history of photography.
Active at Waterbury, Connecticut, as of 1853
Hiram Washington Hayden, Israel Holmes and John C. Booth started their collaboration in 1853 in Waterby, Connecticut. The company was created on February 2, 1853. Henry H. and James A.Hayden also joined the business, hence the plural form Haydens in its name. Holmes was in charge of the sheet rolling-mill, H.H.Hayden of production and J.A. Hayden of marketing. They were the first manufacturers of daguerreotype plates in the United State. Hayden was a daguerreotypist and the inventor of the procedure of direct positive photographs. Alinari Archives preserve 7 daguerreotypes signed HOLMES BOOTH & HAYDENS.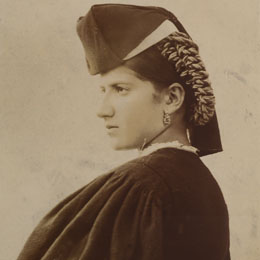 As his surname clearly indicates, Howells (1826-1926) was a painter and photographer of English origin who became a naturalized Italian. Little is known of his life other than that he moved to Italy and developed a passion for photography, which he used to document rural life, the uses, customs and traditions of the inhabitants and farmers of Caserta and Scanno (Abruzzi). This area has inspired significant number of studies on its traditions and has become a favorite spot for photographers such as Henri Cartier Bresson and Mario Giacomelli. He also undertook a trip to Sardinia in 1903, taking various photographs. The photographs taken by Howells were probably also used as visual resources for the creation of paintings, a practice already common among painters at the end of the century such as Francesco Paolo Michetti.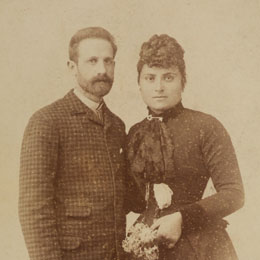 Giuseppe Incorpora (Palermo 1834- Palermo 1914) was one of the earliest professional Sicilian photographers, active beginning in 1859. Crucial for his career were the relationships he developed with French traveling photographers in Palermo during the 1850s. His early work largely consisted of portraits, including one of Giuseppe Garibaldi, taken in June 1860, which won him great fame. He presented a number of his portraits at the Dublin Exhibition of 1865, the World's Fair of Vienna in 1873, World's Fair of Palermo in 1891-1892 and the World's Fair of Turin in 1898. As his work became more sophisticated, he began to produce views of Palermo and of Sicily, becoming one of the most prominent figures of the great Sicilian tradition of landscape and studio photography. He was named "Knight of the Realm" (Cavaliere) and "Photographer of the Royal House" by King Umberto I of Savoy. At the beginning of the 1880s was joined by his son Francesco and his brothers Salvatore and Giovanni in founding the "Real Fotografia Cav. Giuseppe Incorpora", which lasted until the end of 1920s. In 1926, Giuseppe Junior assumed control of the company, remaining at the helm until the end of the Second World War.
(Palermo 1850- Palermo 1911)
One of the first working photographers in Palermo, Interguglielmi specialized in portraits until the end of the 1860s. He became famous in 1880 for his series on Sicilian customs that won the gold medal at the Italian Industrial Exhibition of Milan in 1881. He later won awards at the Exhibition of Florence in 1891, the International Exhibition of Photography in Milan in 1894 and the Paris World's Fair of 1900. The Interguglielmi studio continued operations under the guidance of Eugenio Interguglielmi's sons and grandsons until 1970.
Reverend Calvert Jones (Veranda 1804 – Bath 1877) was one of the first to adopt Fox Talbot's photographic process. He was in direct contact with the latter thanks to his friendship with a cousin. He used the Talbot technique during his many trips to Europe and the Mediterranean, proving himself one of the masters of early photography. In 1845 he left together with Kit Talbot, Fox's cousin, for a photographic tour of Malta, where they were joined in 1846 by their friend and photographer George Wilson Bridge. Together they visited Italy, moving from Sicily up to Naples, Rome, Florence, Bologna and Milan. As he took the photographs he sent the negatives directly home to the photographer Henneman printing them upon his return to present to the English public.
London 1818-1891
One of the first daguerreotypists in London, he opened his first photography studio at 222, Regent Street on February 9, 1847; from 1852 to 1855 he had a studio at 234, Regent Street. He was commissioned with daguerreotype portraits of Queen Victoria and of the Royal family from 1846 to 1852 and was awarded a medal for his photographs at the Crystal Palace Exhibition in 1851; in 1853 he patented a stereoscopic daguerreotype case. In February 1847 Kilburn showed the Society of Arts some examples of his colored daguerreotypes, made by adding fine colored powders onto photographic plates. In 1859 he started producing blow-ups using the Woodward Solar camera. When daguerreotypes declined in popularity and were replaced by photographs on paper, he closed his studio, in 1862. Alinari Archives preserve 8 daguerreotypes by Kilburn.
Holding a degree in architecture, Alberto Lattuada (Milan 1914 - Rome 2005) was drawn from a young age to stage design and cinema, which eventually led him to become one of the most important directors in Italy. He founded with Luigi Comencini and Mario Ferrari the Cineteca Italiana di Milano. In the 1930s, before his debut in cinema, he dedicated himself to photography executing from 1937 a series of views of the streets of Milan and its periphery with his 6x6 cm film "Rollei" camera. The images of poetic realism foreshadowed the vision of neorealist cinema and contrasted with the positivist iconography promoted by the Fascist regime. Twenty six of these images were selected and issued as a supplement of the antifascist leaning journal Corrente founded in 1938 by Lattuada and Ernesto Treccani. Upon the suggestion of Mario Soldati, the monograph was entitled Occhio Quadrato. Lattuada's photographic activity continued in the key of Occhio Quadrato producing until 1948 preparatory documentary images for his films which also retain their own coherence as photographs. Among his better known films are: Il bandito (1947), Il mulino del Po (1949), Luci del varietà (1951); L'imprevisto (1961), Venga a prendere il caffè da noi (1970), and La cicala (1980).
Juan Laurent (Garchizy 1816 - Madrid 1886) moved to Madrid in 1843 where he lived until his death in 1886. His work won the bronze medal at the Exhibition of Industries (Madrid) in 1845 and the silver medal at the Spanish Exhibition of 1850. In 1856 he opened a gallery on Carrera de San Jeronimo 39 where Charles Clifford had his studio. He specialized in photographic portraits of famous figures of the period; indeed he quickly developed a close relationship with the Spanish monarchy and was soon nominated "Photographer of her Royal Majesty, the Queen". In 1858 he was commissioned to photograph the construction of the railway line from Madrid to Alicante, which was opened in 1867. He took part in the Universal Exhibition in Paris in 1867. He was a member of the French Society of Photography from 1859. Laurent organized a group of paid photographers to travel through Spain with their cameras and during this period transformed his gallery into the most important photographic shop in Spain during the nineteenth century. To further promote his gallery, he produced a number of thematic catalogs in the 1860s that included all the photographs he offered for sale. In 1874 he partnered with his stepdaughter Catalina Melina Dosch (who inherited part of the gallery upon the death of her mother) and in 1881 he bequeathed his portion of the business to her.
Descendent of an ancient family from Tirolo, Ferruccio Leiss (Oneglia 1892- Venice 1968) graduated in Agronomy at the University of Milan in 1914, and worked as a chemist. He began to produce photographs from a young age, experimenting with various techniques, including bromoil and gum bichromate, but in 1920 he dedicated himself to a more modern and realist photography, also collaborating with specialized journals and annuals. In 1930 he was one of the founders of the Circolo Fotografico Milanese and in 1947 he was one of the founders of 'La Bussola', the most prestigious photo amateur group of post-war in Italy. In 1942 he collaborated on the publication of the book Otto fotografi italiani d'oggi. Setting aside his photographs exploring graphics and composition, his body of work is largely focused on the city of Venice. In 1953 an extensive collection of his photographs was published in the book Immagini di Venezia.
Bernardine Caroline Théodora Hirza Lejeune (Leba)
Paris 1824-1895
The signature 'Leba' is an acronym combining the first two letters of the surnames of Bernardine Caroline Théodora Hirza Lejeune and Jean Louis Bargignac (Cozes 1816 – Brussels 1858), who were active in Brussels first at 74, then at 71, Rue Neuve from 1852 to 1858. The signature 'B.Leba' might ndicate either Bernardine, who kept running the photography studio at her husband's death, where her son Emile is also known to have worked as a photographer from 1856; or her husband Barbignac. In other cases, he is indicated as B. Leba's widow. Bernardine and her children Emile and Marie left Brussels at an unspecified date. In 1860, there is mention of a 'Photographic Establishment of B. Leba' in Bruges, Hôtel de Flandre, specializing in portraits and reproductions of paintings and drawings. Her son Emile Bargignac was later registered as a portrait photographer in Marseilles from 1861 onwards. Alongside 'Leba' the provenance 'from Paris'- where Lejeune learned the art of daguerreotype - is often reported. Alinari Archives preserve four daguerreotype portraits signed Leba.
LUIGI LEONI
Rome, 1899-1991.
Since his adolescence, Luigi Leoni has been a self-taught photo reporter and one of the first in Italy. His career kicked off at "Il Messaggero" in 1916; in the 20s he joined the Vedo Agency run by Adolfo Porry Pastorel (the founding father of Italian photojournalism) and stayed there until 1926 when he started his own freelance business named "Foto Leoni".
He took pictures on the streets of Rome, shooting events, sports, society: what he loved to call the "variety" of city life during Fascism. He portrayed the daily life in the capital but also the major political events and personalities of those days. He covered Mussolini and the activities of his regime.
His photographs and their accompanying texts were published in major magazines: "Il Messaggero", "Il Mattino", "Il Giornale d'Italia", "La Tribuna", "L'Impero", "Il Littorale", "Il Popolo di Roma", "La Domenica del Popolo", "L'Ambrosiano", "Tutto", "Pro-Famiglia" and "Il Calcio Illustrato".
His close relations with "Yank,The Army Weekly", the Us army magazine, enabled him to study and develop the language of US photojournalism characterized by extreme sharpness and the use of large formats.
In 1942 he was photo-editor at Lavoro Fascista, the magazine of the national confederation of workers' fascist unions but, due to the war and to political tensions, the following year he gave up his activity as a photo reporter. He nonetheless kept on shooting the events in Rome during the Nazi occupation, purely for his personal interest.
After the Liberation he was hired at "Il Messaggero" again. Then in the 50s he became the permanent collaborator of Linee Aeree Italiane (LAI, later on Alitalia). Beside celebrities and major personalities arriving at and leaving from Rome airport, he portrayed workers, bus drivers as well as ads and bills of the companies active at Ciampino. His career went on until 1969/1970.
Leoni Archive is made up of about 15.000 prints and 30.000 negatives, beside photo equipment, magazines and documents. It contains 40 years of life in the Italian capital: events, celebrities as well as ordinary people, the regime, the daily life but also family memories and portraits.
Noel Marie Paymal Lerebours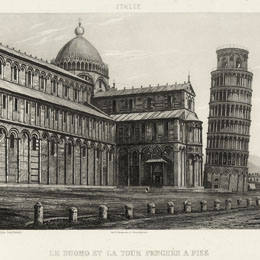 In France, between 1840 and 1843, the optician, photographer and publisher Lerebours(Parigi 1807 – 1873) promoted the publication of a series of 111 engravings made from daguerreotypes taken by different photographers, including himself, in Europe, the Near East and America, and collected in the work Excursions daguerriennes, représentant les vues et les monuments anciens et modernes les plus remarquables du globe. Most of the prints seem to have been taken directly from the original, leaving to the initiative of the engraver only the addition of a few figures to animate the scene. Lerebours' work was published in installments of four plates each beginning with summer 1840 up to the autumn of 1843. The views were later collected in two volumes published in 1842 and 1843-44.
Trained as a painter in Dresden, Lotze (Fraibergsdorf 1809 – Munich 1890) moved to Munich in 1830 where along with his relative Franz Hanfstaengl he completed his photographic apprenticeship under the supervision of the Bavarian photographer Alois Löcherer. From 1857 he was active in Verona, where he was the owner of one of the most important photographic studios in the city. He is the author of portraits and reproductions of works of art, as well as a series of entomological photographs for the naturalist Abramo Massalongo, collected in 1859 in the work Saggio fotografico di alcuni materiali e piante fossili dell'Agro Veronese. Also of note are his splendid views of the city of Verona and its environs, such as in Vues photographiques du Tyrol Meridional, which won the bronze medal at the World's Fair of Paris in 1867. He also produced a complex documentation of Austrian military architecture and fortifications in Peschiera, Pastrengo, Rivoli and Verona. Upon his return to Germany in 1868 his studio work was assisted by his sons Emil and Richard. His archive was later acquired by Domenico Anderson.
After studying medicine and surgery in Edinburgh, Robert Macpherson (Edinburgh 1811- Rome 1872) moved to Rome for health reasons in 1840 and quickly became interested in photography. He was particularly inspired in 1851 by the arrival in Rome of a close friend, himself a physician and amateur photographer. Soon, his talent surpasses that of his already famous countryman James Anderson. In 1858 he published a catalog of his photographs. Since 1851 he had been selling views of monuments and landscapes to tourists on the Grand Tour, he always use large format plates and reproduced images with a lithographic process, not only on stone but also on metal, a technique of his own creation which he copyrighted. In 1863 he produced more than 300 plates of sculptures for the Vatican Museums, which he published in an album format that won great commercial success.
Born in Florence in 1912, Maraini (Florence 1912 – Florence 2004) travelled widely beginning in his youth, visiting Europe and maternal relatives in South Africa, India and other countries. At twenty two he shipped out as an English instructor of cadets in the Naval Academy of Livorno, on the school ship "Amerigo Vespucci" bound for the Middle East. In this manner he visited Egypt, Lebanon, Syria and Turkey. In 1935 he married Topazia Alliati and the couple had three daughters, Dacia, Yuki and Toni. In 1937 he accompanied the Orientalist Giuseppe Tucci on a long expedition in Tibet. This experience convinced Maraini to turn to ethnographic research and to the study of Asian cultures, resulting in many other voyages to Asia and a sojourn in Japan for many years. He was also a passionate trekker who led many important expeditions in the mountains of Karakorum and the Hindu Kush. His travel writings and photographs of Tibet, Japan and Central Asia have been published in numerous languages. He was a professor of Japanese language and literature at the University of Florence and became one of the foremost experts on the culture of Ainu people of Northern Japan. After having divorced his first wife, he married Mieko Namiki in 1970 with whom he lived in Florence, working until the end of his life on organizing his photographic archives and collection of rare books. Maraini bequested his Oriental library and photographic archive to the Gabinetto Scientifico Letterario G.P. Vieusseux of Florence.
Giuseppe Marzocchini (Livorno 1802 – Livorno 1865) was one of the first photographers working with daguerreotypes in Livorno as early as 1843. He was soon flanked in his work at the Stabilimento fotografico Marzocchini, in Via Ferdinanda 78, by his son Riccardo, with whom he took part in the Italian Exposition of 1861 in Florence, exhibiting a series of portraits taken with techniques that at the time were highly regarded from a commercial point of view, ranging from stereoscopy to faux "cameo". On the death of his father, Riccardo moved the studio to Via Vittorio Emanuele 8 and it became one of the most important in Livorno. In addition to portraits he also produced a great number of views, and in 1874 he published the Album Livornese, a collection of 204 views of the city accompanied by brief historical notes.
Manchester 1813 - London1901
One of the best daguerreotypysts active in London as of 1847 with his studio at 433, West Strand, Mayall learnt the art of photography in Philadelphia and brought back home such expertise and refined quality in making images on silver plates that he was widely appreciated and called the "American daguerreotipyst" although he most likely was of British origins: the attribute referred to the clarity, brightness and format characterizing the works of overseas photographers. Thanks to such reputation he was commissioned with the photographic documentation of the 1851 Exhibition at Crystal Palace, which he did with seventy-two daguerreotypes and was awarded the "honorable mention"; at the Exhibition he introduced the technique of vignetting, where the subject's head is in focus whilst the surrounding environment gradually becomes blurred. A typical trait of his portraits is the choice of the figure's pose, inspired by the esthetic parameters of XVIII painting: following a pyramidal scheme of composition, the focus is on the subject's concentrated gaze and all composition lines lead back to it. After purchasing the daguerreotype license from Richard Beard, he opened the "American Daguerreotype Institution" (which he gave up in 1855) in London and in Brighton at 90-91, King's Road. Alinari Archives preserve 14 daguerreotypes by Mayall, 7 of which in a display coming from his studio at 433, West Strand.
The primary activity of Michetti (Tocco Casauria 1851-Francavilla a Mare 1929), as a painter, reflects how his educational and stylistic background developed in the context of Neapolitan culture, first in the school of Morelli and later in the realism of Palizzi. Initially, Michetti used photography exclusively in support of his painting, but he soon began to understand that the medium was particularly suited as a visual art for the new century. Michetti's exploration of photography, and his interest in the technical process as well as in its use in painting, reflects a common experience for many Italian artists in the second half of the nineteenth century, which led many to abandon painting in favor of photography. Thanks to his curious and uninhibited temperament, Michetti quickly learned the most common development and printing techniques, producing a large quantity of images. From lovely portraits of women from Abruzzo in his early career, Michetti moved towards more varied subjects, including pilgrims and processions, the fishing of tuna at Acireale, animals and figures in landscapes. Eventually his artistic sensibilities led him to the minute and quotidian aspects of nature: water, leaves, flowers, roots, underbrush and other detailed aspects that struck his fancy that appear in his photographs as autonomous visual elements.
Active in Paris 1840-1868 ca.
Désiré François Millet was active as a daguerreotypist in Paris from 1850 to 1866; there he opened his first studio at 15, (later on 11 or 13) rue du Coq-Saint-Honoré in 1850 and moved to 6, rue Montesquieu in 1854. He took part in the 1851 Exhibition in London, in 1855 in Paris and Amsterdam. His photographs were very much appreciated by Ernest Lacan who mentioned him as one of the best photographers in Paris on the French magazine "La Lumière" in 1854. In 1855 Wilhelm Horn valued his pictures as "true masterpieces". Alinari Archives preserve eight daguerreotypes by Millet.
Miniati (Livorno 1889 - Livorno 1974) began his career in photography with his father, who ran a bustling studio in Livorno, without following his overly conventional and provincial style. During his military career he became an Army photographer, participating in many war campaigns for which he produced photographic documentation on various fronts until 1943. Having received an academic artistic training, Miniati produced retro-style portraits, although his fame is primarily linked to images of Livorno, its people and its Naval Academy. He participated in and won many photographic competitions. Miniati worked until the last months before his death. His most beautiful and artistically accomplished photographs are of the school ship "Amerigo Vespucci", in which he is able to capture the profound link between man and the sea.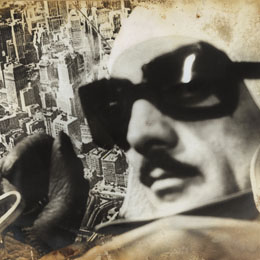 (Turin 1905 - Turin 1973)
Architect and designer, Mollino's eclectic and diversified output centered around public and private buildings, furniture and other objects. His career as a photographer was long and passionate. Photography became for him the preferred medium for portraits and nudes. In his famous portraits, women are never isolated but rather integrated within the environment that surrounds them: furniture, curtains, ornaments and other furnishings. In the 1930s he began photographing still life images. In 1949 he published an important work of photographic theory entitled Il Messaggio dalla camera oscura.
Montabone (?- ? 1877) began working in Turin on via della Rocca 47 around 1860 with a shop called 'Fotografia Reale', which soon became successful as evidenced by the many portraits of famous figures of the Sabauda court that were taken in this period. He was one of the first photographers in the subalpine area to introduce the carte de visite format and in 1860 he was granted membership to the Societé Française de Photographie, which gathered the leading figures of international photography in Paris. Montabone established his reputation as the official photographer for the first Italian Mission in Persia in 1862. He executed many views and portraits of sovereigns and other dignitaries while in Persia, which won him great fame. All of his photographs from the Mission bear a stamp with the lion of Persia and the words 'Fotografo di S.M. il Re d'Italia, della Regina d'Inghilterra e dello Shah di Persia' on the back. Some five years later in 1867, Montabone exhibited the Persian series at the Paris World's Fair, for which he received an "honorable mention". In the following year his Persian portraits were again exhibited at the National Exhibition of Turin. After 1870, branches of Fotografia Reale have been documented in Milan, Florence and Rome, which continued to be operated by successors after his death in 1877
Come fotografo amatoriale Aurelio Monteverde documenta con vivacità e gusto per l'inquadratura istantanea la società aristocratica di fine secolo, viaggia in Italia alla ricerca di 'emozioni' e mostra curiosità per l'arte, ma anche per la vita sociale ed economica del nostro Paese. Gli appunti fotografici di Monteverde possono essere definiti schizzi tascabili di un realismo impressionista.
Morpurgo (Spalato 1886-Rome 1971) grew up in Spalato and studied in Venice, where he graduate in Commercial Sciences in 1907. At the beginning of the First World War he moved to Italy in order to escape the Austrian regime and during this period he began to use his training in photography from his university studies to document the folklore of Lazio and Abruzzo, and perfecting his bromoil and gum bichromate techniques. He obtained notable success exhibiting his photographs at the artistic circle located on via Margutta in Rome. In 1919 he founded the 'Società Tipografica Grafia' and worked on various editorial projects while contributing to his own photographic campaigns, notably those of his trip to Palestine and Jordan in 1927, which were displayed at the Quirinale and collected in a rich volume. Morpurgo embarked on other photographic trips in Dalmatia, Albania, Greece, Turkey, Bulgaria and Romania and successfully participated in many international exhibitions.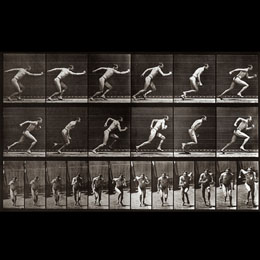 (Kingston upon Thames 1830-1904 Kingston upon Thames)
Born in England, Muybridge left for the United States of America in 1850 where he intended to establish himself as a bookseller. He discovered daguerreotype technique through Silas Selleck, and founded with him the Cosmopolitan Gallery of Photography Art. He was interested in landscape and the changes that the American industrial revolution imposed on the land. He participated in geographic expeditions in Central America and later dedicated himself to the study of the locomotion of animals and humans which defined him as a pioneer of movement's photography. His research continued to meet with great success thanks to Marey in Paris in 1886. His famous album Animal Locomotion published in 1887 contributed to the development of new methods of capturing movement that subsequently led to the birth of cinema.
After graduating with a law degree, Naya (Vercelli 1816 - Venice 1882) moved to Venice around 1857 where he opened a photographic studio. Specializing in reproductions of works of art and views, he met with immediate success and in 1864 was commissioned to create a series of photographs of the frescoes of Giotto in the Cappella degli Scrovegni in Padua before their restoration. He later presented these at the Paris World's Fair of 1867. During his early years in business he operated out the photographic studio of Carlo Ponti, with whom he published the album Vedute di Venezia in 1866. However, the two split in 1868 over a legal dispute, and Naya opened a large new shop in Piazza S. Marco. After the death of Carlo in 1882 his wife Ida Lessiak took control of the company and delegated its management to Naya's partner, Tommaso Filippi. Under Filippi's hand, the company published Isole della laguna di Venezia in 1887, an album of views of genre scenes commissioned by the City of Venice for the National Artistic Exhibition. The company later was acquired by Antonio Dal Zotto and again later by Antonio Bacchetto until its closure in 1918.
(Genoa 1833 – Dresden 1896)
Noack worked in Genoa from 1860 to 1896. His photographic work consisted of landscapes and views. He produced an immense number of images, largely of subjects in Liguria. Upon his death, Noack's archive was purchased by other photographers, including Carlo Paganini who developed Noack's negatives and signed them as his own work. A portion of Noack's negatives are preserved in the archive of the city of Genoa, for which he worked frequently; unfortunately, these were destroyed during the bombardments of the Second World War. His large body of work built up over the years testifies to his considerable technical experience, placing him, as Becchetti has argued, among the most accomplished photographers from Northern Italy.
(Florence 1856 - Florence 1932)
Nunes Vais came from a well-off Jewish family; like his father he first worked as a stockbroker. He began to make photographs of rural and city life in 1885. He dedicated himself to portraiture at the beginning of the twentieth century with the intent of building a great "Pantheon fotografico." Much appreciated by celebrities of the period, he produced soft light portraits of figures from Italian art and culture as well of the bourgeoisie, confirming his reputation as one of the finest amateur portraitists of his age.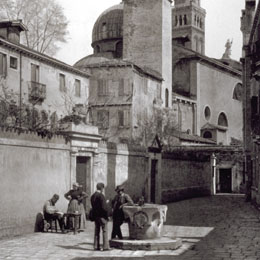 (Venice 1842- St. Moritz 1911)
Ferdinando Ongania was not himself a photographer but rather a publisher who was instrumental in promoting the heliotype photographic process. He began his career at the Venetian bookstore of the Münster Brothers, taking over the business himself at only nineteen years of age. His publishing projects expanded during this period with facsimile reproductions of illustrated books from the sixteenth and seventeenth centuries in the series Raccolte di opere antiche sui merletti, and with collections of reproductions of original drawings preserved in the Academy of Fine Arts of Venice. Between 1877-1887 he worked on the monumental work of illustrations of the La Basilica di San Marco in Venezia, with 425 heliotype and chromolithographic plates, based on photographs taken by Carlo Jacobi and Oreste Bertani. He later published two collections
Calli e Canali (1890-1892) and Calli, Canali e isole della laguna (1893), each with 100 numbered heliotype plates and the two volume set, Portafoglio delle arti decorative in Italia, with 96 and 80 heliotype plates respectively published in 1890 and 1893. The catalog of the illustrated works published by Ongania consists of over 50 titles, all using the heliotype process, which by the time of his death had already been superseded by halftone photomechanical processes.
(Naples 1891- Naples 1967)
After his technical studies, Giulio Parisio turned to military aviation, executing various aerial photographic surveys over Dalmatia. After the war he worked as a reporter and later opened a studio in Naples where he primarily produced portraits. He was also interested in ethnographic photography, spending significant amounts of time in Southern Italy and in Sicily, photographing landscapes, scenes of agricultural and factory work, and fishing on the shores of Calabria. He participated in numerous national and international exhibitions. In 1926 he opened an art gallery that became a center of avant garde painters. He met Carlo Cocchio who introduced him to Marinetti in 1928 just as the Futurist movement was forming. He experimented with his first avant garde photographs under the pseudonym "Paris". At the beginning of the 1930s he participated in all of the Futurist exhibitions. He explored techniques in optical distortion, photomontage, solarisation, and staging with paper figurines. He participated in numerous international exhibitions, including Paris in 1925 and the 1935 World's Fair in Brussels.
Domenico Riccardo Peretti Griva
A judge by profession (he was the honorary president of the Court of Cassation) and an author of texts on law and sociology (as well as children's books), Peretti Griva (Coassolo Torinese 1882-Turin 1962) begun working in photography at a young age, around 1905. Indeed, his photographs reflected a desire for escapism and solace. He presented at the Prima Esposizione Internazionale di Fotografia Ottica e Cinematografica held in Turin in 1923. He was a supporter of now outdated interpretive techniques such as the bromoil and greasy ink printing processes from the 1920s, and of the aristocratic language adopted by those who used a painterly style to avoid being contaminated by realism in photography. During 1930s he begun to participate in national and international exhibitions at a level unmatched by his contemporaries in Italian art photography. His well known photographs were published in catalogs, annuals, books, specialized journals such as Il Corriere Fotografico, Il Progresso Fotografico, and Vita Fotografica. A theorist of the aesthetics of photography, Peretti Griva produced a notable number of essays and articles on techniques and aesthetics as well as pamphlets and writings on the legal aspects of film and photography. He has also published many photographic books, such as "Cento impressioni romane".
(?-?)
A Neapolitan photographer and archaeologist, Luigi Pesce immigrated to Persia in 1848, becoming captain of the infantry of the Shah. He was one of the founders of the Polytechnical school of Tehran, where he also began to teach the basics of photography to Persian officials. He specialized in images of historic ruins and the areas surrounding them. No one had ever photographed Persia before; his pioneering work created a sensation in Europe when it arrived in 1860. In March 1861 he wrote to Cavour, asking to return to Italy and specifically mentioning that he was the author of an album of the most interesting monuments in Persia never before depicted.
The name of the Englishman Philpot (Maidstone 1812 – Florence 1878) appears among those involved in the history of the origins of photography in Tuscany and in particular Florence. He began working in the city of Florence using the calotype technique in the early 1850s and then continued with a commercial production of reproductions of art and views done with collodion plates. Up to recently the only attestation for his early work was a series of 28 calotype negatives in the Photographic Cabinet of the Soprintendenza dei Beni Artistici e Storici of Florence. To be added now however is a further 'corpus' of 35 calotype negatives in the Fratelli Alinari Museum of the History of Photography, and together they document an artistic personality of considerable scope, with regards both to the technical quality and to the studied compositions of his photographs. His better-known views of the city of Florence, ranging from sculpture to the principal churches, with particular attention to depictions of the Arno, and its bridges and banks, can now be flanked by various views of the well-known nineteenth-century tourist resort of Bagni di Lucca, favored by the English community in Tuscany, confirming once again the Anglo-Saxon cultural mark of these extraordinary pictures with their wealth of references to the 'picturesque' and the 'sublime' of romantic derivation. Seen as a whole it is a significant iconographic repertory of the type of views made in answer to the taste and idea of Tuscany and Florence of the foreign tourists who were the principal clients.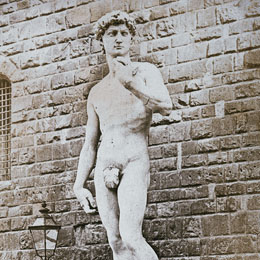 (Paris 1812 – Paris 1891)
Archaeologist and photograph, the French Eugène Piot, worked to an imposing opus never finished, L'Italie Monumentale, presented in 1851 with the first of the twenty-five portfolios planned. The work was to be the first in a series of publications devoted to the leading countries of Europe, illustrated with photographs most of which taken by Piot during his long sojourns in Spain, Germany, England, Greece and Italy. He was the first to use photography as a means of reproduction in large scale documentary campaigns consecrated to architecture, archaeology and works of art and although in 1854 the undertaking was a financial failure, it remains as evidence of the utopian dream of producing the first discerning catalogue of art for scholars. The photographs are treated like lithographs, mounted on light cardboard with printed titles and the words "Piot fecit et excudit". Each one is printed on fine extremely fragile Chinese paper, which makes the tones of the photographs look almost like ink and in their small format makes the picture more precious.
In 1850 Piot personally photographed the Tuscan monuments and made many other photographs on his many trips to Italy, particularly the south where he documented the architecture of the Greek temples, creating pictures with a tonal quality and an austerity of composition that made them particularly captivating.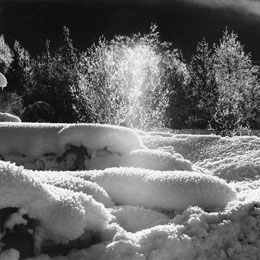 Born in Friuli in Gemona, he grew up in Venice and studied and worked as an engineer in Padua, and as an executive for a multinational group in Argentina, Switzerland and subsequently in Italy. He has always been interested in the environment and nature of the places he has lived in—cities, the sea, mountains—and was interested in photography from an early age, although he pursued the discipline with more energy and passion in the last twenty five years privileging nature photography. After his first Leica IIIF, he purchased other used Leica and Hasselblad equipment, becoming an avid collector and photographer. His photographs, exhibited in Milan, Trieste and Bergamo or in a few published works, such as Filiberto Pittini, (Electa 1987) are always in black and white, focusing on the essential nature of the subject through lines, shadows and symmetries that transcend simple description.
Castle Caereinion, Powys, Galles 1809- Dubuque, Iowa 1857
Plumbe moved to the United States in 1821, first to Philipsburg, Pennsylvania and later on to Dubuque , Iowa. He started off as a civil engineer but then turned to daguerreotypes; he opened the Daguerrian Gallery in Boston (75, Court Street) in 1840 and, still in the 40s, a number of photo studios in franchising in the US (the first in Washington in 1844), with branches in Paris, Liverpool and Canada. He developed a lithographic process to reproduce photos, called "plumbeotype". The pictures produced at Plumbe studios were attributed to Plumbe himself although they were actually made by others, including his brother Richard Plumbe. Due to financial problems in 1847 he handed over his business to his employees. Alinari Archives preserve 4 daguerreotypes by Plumbe.
Lieges, 1821 – 1895
A daguerreotypist he took over the management of his elder brother Alphonse's studio in Paris, close to Boulevard and Passage des Panoramas. Considered one of the major portrait artists in Paris, he had his studios at 36, Rue Vivienne (1843 ca.-1867) and 9, Boulevard Bonne Nouvelle (1845-1865). Beside daguerrotypes he also used heliography on metal: the quality of his work in this field received a positive mention at the Exposition des products de l'Industrie in Paris. In 1852 Victor Plumier was one of the first in France, before Disdéri, to test different kinds of English collodion. He collaborated with Niépce de Saint-Victor in a number of new experiments. Alinari Archives preserve 6 daguerreotypes by Pierre Victor and 1 by Alphonse.
(Sagno, Canton Ticino 1821-Venice 1893)
An optician of Swiss origins, Ponti was professionally trained during his eight year stay in Paris, later moving to Venice at the beginning of the 1850s. There he cultivated an expanding business, opening a shop selling optical instruments, as well as photographs. In 1854 he won an award at the Exhibition of Agriculture and Industry for his "photographic apparati". In the same year he published his first catalog of 160 views of Venice, with photographs also contributed by Perini and Bresolin. In 1862 he won an award at the London International Exhibition, where he presented his Megaletoscopio, a viewer for large format photographs with spectacular effects. Ponti's commercial success with optical instruments and in the production of souvenir views of Venice continued to grow; among the people with whom he collaborated was Carlo Naya.
Studio fotografico Pozzar
The Pozzar photographic Studio was active in Trieste from the beginning of the 1900s until the 1980s and specialized in the documentation of industry, architecture and portraits, especially in the world of entertainment. The archive includes the original glass negatives of the Lloyd Adriatico archive with a documentation of the shipyards and the Austro-Hungarian fleet. Beginning in the 1950s Ruggero (Geri) Pozzar (born in 1939), joined his father in the business, soon taking the firm in a different direction. Pozzar studio became known for its unconventional portraits of non conformist intellectuals (painters, authors, and actors) and series of nude images. Thus transgression and eccentricity of the photographs of Pozzar's son replaced traditional representations of Trieste.
A well known writer and documentary director for cinema and television, Folco Quilici(Ferrara 1930) has established a reputation for his study of the relationship between man and the sea. Specializing in underwater photography, he is very popular in Italy and in abroad. His first full length film, Sesto continente (1953) was rich in suggestive images of the Australian seas. He has made over 300 middle and short length films on cultural subjects. In the years Quilici split between work as a journalist and as a film-maker, he produced investigative studies and reports on the environment and civilization. He has won international awards for his considerable body of work the field of culture for television programs. As a photographer active since 1949, he has accumulated over one million images in color and in black and white. At the International Photo Contest of 1998 he was named 'Great Master for creative excellence'.
Guido Rey (Turin 1861 – Turin 1935), mountain climber and photographer, but professionally connected to the Piemontese firm of Sella with whom he was related, is considered the most outstanding representative of pictorialist photography in Italy. He was well-known abroad as well, especially in London, where he was appeared in the journal 'The Studio', and in Demachy and Puyo's 'La Revue de photographie' in Paris. He was the only Italian photographer who had two photographs in 1908 in the precious pages of the mythical and elite journal 'Camera Work', of Alfred Stieglitz in New York. As one of the first members of the Club Alpino Italiano, Guido Rey began photographing in 1885 above all on alpine ascents, like his cousin Vittorio Sella, but he soon turned to the new fashion of pictorialist photography, that had spread everywhere as defense against massified photography. Rey systematically aimed at demonstrating the artistic quality of photography, above all with his compositions in costume. His pictorialist photography distinguishes itself from that generally practiced, above all by the French, since it used scenic settings and scenes in costume, similar to historical cinema sets, with intimate family scenes, in interiors and exteriors, referring above all to the classic world of the Greeks and Romans, but also to the Flemish, with explicit reference, in this case, to the structure and light of famous paintings, such as those of Vermeer.
Pierre-Ambroise Richebourg
Paris 1810 - Saint-Pierre-lès-Nemours 1875
In Paris he studied optics with Victor Chevalier and photography with Louis Daguerre. He started off as an optician, later on became a daguerreotypist and manufacturer of daguerreotype plates; his studio was at 29, Quai de l'Horloge. He moved to collodion in the early fifties. Around 1844 he was in Rome: Alinari Archives preserve three extremely rare daguerreotypes made in Rome, the first known photographic views of the city. During the Second Empire, Richebourg was the official photo reporter of political events (such as Queen Victoria's visit in 1856) and family events (such as the baptism of the Imperial Prince). In 1859 he was commissioned with the illustration of a work by Théophile Gautier titled "Art treasures from Ancient and Modern Russia" and visited Russia. Alinari Archives preserve three daguerreotype portraits signed Richebourg.
(?-?)
Probably of French origins, Rive was active in Naples from the beginning of the 1860s making views and portraits in the Romantic style. He undertook extensive photographic campaigns not only in Naples but also in other major Italian cities, including Florence, Pisa, Rome, Venice, Genoa, and above all, in Sicily. He participated at the Paris World's Fair of 1867, winning a patent for photosensitive paper that he had invented.
(1845 – 1907)
Franz Ettore Roesler was author of a famous series of watercolors of the Museum of Rome entitled Roma pittoresca or Roma sparita. Roesler Franz photographed the urban aspect of Papal Rome between 1880 and 1890, when the new capital of the reign of Italy was undergoing major urban renewal. In the intricate web of Medieval streets and alleys that open unexpectedly into Baroque and Renaissance views, Roesler seems attracted by the human presence and activity in both sad and picturesque representations of everyday life. His most famous work depicted the lesser known and forgotten spaces of Rome far from the city's more magnificent areas.
(Milan 1924 - Milan 1977)
Ronchetti studied engineering at the Polytechnic University of Milan. He worked as a photographer his whole life in the same company. Ronchetti had the attitude and passion of a scholar; his interests were concentrated on the history and civilization of the Near East, which he focused on after having studied music, literature and theology. In the 1950s he first discovered photography as a way of recording his travels and vacations. His strong interest in black and white photography led him to work exclusively in the medium, studying all its effects with his Rollei-Flex.
(Florence 1843 - Florence 1927)
Roster graduated in medicine and surgery from the Regia Università di Pisa in 1864. A doctor and surgeon of academic renown, a diligent scholar and a famous exponent of scientific photography in Tuscany, Roster most notably worked in telephotography and photomicrography, the results of which were often cited in the international journals of the period. Indeed, for Roster, as for many other scientists of his age, his interest in photography can be regarded as the inevitable appropriation of one of the most reliable instruments available in the middle of the nineteenth century for positive science. In Florence on the occasion of the first Italian Exhibition of Photography in 1887, Roster exhibited some instant photographs and a collection of photomicrographs on the subject of hygiene and parasitology, for which he won two bronze medals. His photomicrographs won awards at the most important photographic and medical exhibitions, including a silver medal in Vienna in 1888, a silver medal in Brussels in 1891, and the Grand Prix at the Exhibition of Anversa in 1892. As the president of the Italian Photographic Society from 1890-1894 he met many other photographic professionals including Vittorio Alinari, Carlo Brogi and Mario Nunes Vais, with whom he conducted experiments on the many possibilities suggested by new techniques of reproduction. Giorgio Roster leaves an extraordinarily rare repertory of scientific and encyclopedic images that reflect both his personality and nineteenth-century culture
Jean-Baptiste Sabatier-Blot
Lassur 1801 – Paris 1881
He was a French painter, miniaturist and daguerreotypist, a true pioneer in photography. He opened his workshop in Paris at n.52, Palais-Royal galleries and took part in the 1831 and 1843 Salons. Later on, in 1842, he moved to n. 137 where he opened a daguerreotype studio with under his wife's name Blot and his own. It was there, in 1844, that he made two test portraits for his friend Louis Daguerre, one of which was found by collector Gabriel Cromer, close to the Sabatier-Blot family. In 1844 and 1849 he presented this work at the industrial Exhibition in Paris where he was awarded an honor mention. Until the fifties of the nineteenth century he introduced himself as "a miniature painter who makes daguerreotype portraits" and mainly worked at Palais-Royal where he gained a reputation as a portrait artist. In 1851 he joined the Société Héliographique, then in 1854 he was one of the first members of the Société française de photographie. He retired in the early 70s. Many of his daguerreotypes are kept at Musée d'Orsay and at the National Library of France. Alinari Archives have 5 of his daguerreotypes.
(Ribeauvillè 1824 – Ribeauvillè 1872)
During his stay in the holy city of Jerusalem in 1854, Salzmann took a hundred and sixty-four pictures and then, in 1856, he published them in the album Jérusalem: études et reproductions photographique des monuments de la Ville sainte, depuis l'époque judaique jusqu'à nos jours, one of the greatest works of illustrated archaeology of the nineteenth century. Usually his pictures have a quality and a balance in their composition that almost make them look like abstract geometrical constructions, pictorial compositions where the archaeological detail in turn becomes a decorative element for a new aesthetic vision. In this sense Salzmann can be considered one of the most important photographers of the calotype period and his photographic campaign in Jerusalem not only corresponds to what archaeologists of the time wanted, finding in the photograph the only true support capable of seeing details, but represents for the photographer the beginning of a career as archaeologist photographer, where the 'camera obscura' becomes an integral part of his work as a scholar, with pictures quite unlike the celebrative documentation of historical monuments taken in their travels by photographers such as Du Camp.
Pascal & Policarpe JOAILLIER Sebah Joaillier
Pascal Sebah was a Levantine (Ottoman) who operated a studio called "El-Chark" on Postacilar street in the Pera quarter of Istanbul. He won medals at the World's Fairs of Paris, Vienna, and Philadelphia. His success later allowed him to open another studio in Cairo in 1873. He worked closely with Béchard. In 1884 the photographer Policarpe Joaillier moved to Istanbul and became Sebah's partner—their names became the title of their new business, which continued to operate until 1888. Their successors Iskender and Perpanyani retained the name of the company's founders because of their strong reputation.
(Biella 1859- Biella 1943)
Vittorio Sella was an avid mountain climber and emblematic figure of mountain photography which he practiced throughout his life everywhere in the world, from the Alps to the North Pole, from Ruwenzori to the Himalayas, with an anthropological as well as topographical interest. He was the son of Giuseppe Venanzio Sella (1823-1876), who also studied chemistry in Paris where he sojourned at length and who wrote one of the first photographic manuals written by an Italian, 'Plico del fotografo' (1856), a book that was quite successful abroad and particularly in France thanks to the precision and the wide range of the texts.
The Sella family was long and successfully involved in the wool firm of the same name in San Gerolamo di Biella, where with great care and passion Lodovico Sella still preserves Sella's photographic archive in the "Istituto di fotografia della montagna".
Quintino Sella, one of Vittorio's uncles, also worked with photography. He was famous as Minister in the first Kingdom of Italy and one of the founders of the Italian Alpine Club, active since 1863.
Vittorio Sella participated as photographer in numerous expeditions, sometimes with the Duke of Abruzzi, also an adventurous explorer, especially in Alaska, collecting, here as on the Ruwenzori, a fundamental ensemble of geographical, sociological and anthropological pictures.
The American photographer Ansel Adams dedicated a memorable essay to Vittorio Sella when he died, where he observed that "the vastness of the subject and the purity of Sella's interpretation move the observer, with a sort of religious awe", a comment that describes more than others, the extraordinary photographs of Vittorio Sella, a leading figure in the world history of photography.
Carlo Baldassarre Simelli
(Stroncone 1811- Rome 1877)
Carlo Baldassarre Simelli studied art in Rome and initially began working as painter, until his success as a photographer in 1857, when he was commissioned to produce images of the buttresses of the Cupola Vaticana in St. Peter's Cathedral. In 1864 he produced photographs for the volume Antiquités Chrétiennes de Rome by Barbier de Montault and in 1868-1869 he worked with Parker. In 1870 he presented a series of photographs on Christian archaeology at the Catholic Exhibition of Rome. From 1870 to 1873 he moved his studio to Frascati in order to photograph rural subjects for artists. He later returned to Rome where he died in 1877.
(Lodi 1883 – Milan ? 1956)
Emilio Sommariva arrived in Milan at nineteen years of age to study photography as a shop apprentice while simultaneously studying painting. In 1904 he opened his own studio which he moved in 1913 to via San Paolo, and where he had apprentices such as Castagneri and Crimella. In 1911 he won the gold medal at the International Exhibition of Rome and an honorary diploma in Turin. In 1922 he won success with worldwide press coverage at the International Exhibition of Photography in London and in 1923 at the First International Exhibition of Artistic Photography in Turin. Sommariva was best known for his portraits, which attracted the Milanese bourgeoisie and other famous artists to his studio. He was also the author of landscapes which break with a pictorial tradition.
(Frankfurt am Main 1834- Frankfurt am Main 1914)
Giorgio Sommer came to photography at a young age, almost as a game, but later family economic troubles turned him to photography as a profession. His first activity has been documented in Switzerland. In 1857 he opened a studio in Naples, where he married and lived for the rest of his life, leaving only for photographic campaigns throughout Italy. From 1860 until 1872 he was partner with his countryman Behles, a close friend with whom he shared photographer's credit. In 1873 he published a detailed catalog of his photographs, while in 1900 under commission from the Confederazione Elvetica he published the Catalogo di fotografie d'Italia Malta & Tunisia, a series of orographic reliefs documenting the feasibility of constructing new roads. He later arrived in Rome where he captured the modern and ancient city, perhaps with an eye to entering the flourishing Roman photographic market. In 1867 he exhibited at the Exhibition of Paris, winning a bronze medal. In 1875 the quality of his work was acknowledged by Vittorio Emanuele II. Beyond his work as a studio photographer Sommer also operated a foundry for bronze sculptures, as can be seen in his published catalogs.
Active in Genoa as of 1853
Thanks to a daguerreotype kept in Rome (M.Possenti, Vue d'Italie, 2004, p. 247) and dated 1853 we know that Thaust Dodero, a photographer of French origins, carried out his activity at 708, Piazza delle Erbe in Genoa. This is confirmed by Il Cicerone which mentions him as a daguerreotypist. But from the DVQ-F-002513 daguerreotype kept at Alinari Archives we learn that as early as 1850ca. he was active in the same city at San Domenico (ater on Carlo Felice) square, Hotel della Lega Italiana, whilst his residence was at 525, Strada di S.Siro, as shown by DVQ-F-002610 daguerreotype also in the Alinari Archives. He appeared in the business registers as of 1855. In 1858 he opened his studio on the third floor at 11 Piazza d'Arme in Leghorn. He also used calotype: Alinari Archives preserve an album dated 1856 including 29 calotype salt prints by Dodero depicting Genoa and surroundings (FBQ-A-006958).
Gaspard-Felix Tournachon Nadar
(Paris 1820 – Paris 1910)
Barely twenty when he first dedicated himself to journalism, Gaspard-Felix Tournachon, known as Nadar, contributed articles and sketches to various Paris newspapers, above all caricatures of the leading figures in the city's cultural and political sphere. In 1853 he planned a large commercial lithograph, 'Panthéon-Nadar', which was to illustrate the presence in the Parisian life of over two hundred figures, painters, musicians, statesmen, etc., a work he laboriously carried out, although some of the hand-drawn vignettes in the poster were harshly criticized. In 1854 he decided to turn to professional photography and opened his first studio with his younger brother, Adrien, with whom he soon fought, after which he continued on his own in Rue Saint-Lazare. Subsequently he moved to a larger space, in Boulevard des Capucines, where in 1874 he hosted the first exhibit of Impressionist painters, with whom he sympathized. Nadar's adventures are many and all extraordinary. Fascinated by hot-air balloon flights, he took the first aerial views in history in 1859. Two years later he photographed the catacombs and sewers of Paris using artificial light produced by Pile Bunsen lamps. In 1870, during the Prussian siege of Paris, he organized an aerial bridge of hot-air balloons to pass over the enemy lines. In 1886, together with his son Paul, he planned and carried out the first photographic interview of the hundred year old scientist Chevreuil, which was published in the newspaper 'Le Figaro'. But Nadar photographer is best known for his photographic "Panthéon", a collection of hundreds of portraits on collodion plates of the most important figures of his time, a sublime catalogue of artists, statesmen and beautiful women, in which he transmitted not only the way they looked but the breath of their existence.
(Naples 1831-Campobasso 1915)
Trained as painter in Naples, Antonio Trombetta began to work in photography in the 1870s. He always remained close to his initial training as demonstrated by the fact that he signed "Antonio Trombetta Pittore Fotografo" on the back of the earliest photographs he produced. Beginning in the 1890s he was joined by his son Alfredo; indeed, it is difficult to distinguished between the works of the two during this period. Like his father, Alfredo also favored a painterly style, resulting in characteristic "photopictures". The Trombetta Studio remained an important point of reference in Molise for some time, with a body of work consisting of landscapes, monuments, portraits, popular customs and religious and folkloristic traditions. The studio received many official recognitions.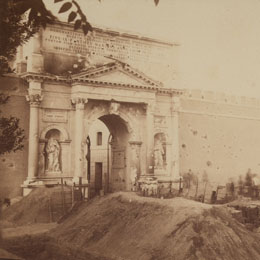 (Rome 1824- Rome 1907)
A pioneer of photography in Rome, Lodovico Tuminello was active from roughly 1842. Involved in the liberal movement of the Roman Republic, he fled to Turin where he lived from 1849 to 1869. Here Tuminello dedicated himself to producing views and portraits, receiving in his studio the leading figures of the Sabaudan bourgeoisie. He was awarded a bronze medal at the National Exhibition of Industrial Products of 1858. Between 1859 and 1861 he accompanied the Marquis Orazio Antinori on his expedition to Egypt and Sudan and documented the voyage with a series of compelling calotype images. He later traveled with the Marquis on other expeditions to Sardinia and Tunisia, which he also documented with photographs.
In 1869 he returned to Rome and opened a studio on via Borgognona 82 and later on via Condotti 21, partnering with don Antonio d'Alessandri as the official photographers of Pius IX. In 1870 he produced photographs of the military encampments of Italian troops laying siege to the city and in the same year participated with the photographer Angiolini at the Photographic Exhibtion of Florence. He would later participate at the World's Fair in 1873 (Vienna) and in 1878 (Paris), winning a bronze medal.
For some time an experimenter with photographic techniques, Tuminello obtained excellent results with the calotype, and continued to use it for quite some time as he appreciated its aesthetic qualities, even after more advanced technologies had replaced it. Upon his retirement in 1903 his archive was auctioned off. Only a small group of negatives were salvaged and are now preserved in the Istituto Centrale per il Catalogo e la Documentazione of Rome.
(Trento 1876- Trento 1959)
Unterveger learned photography alongside his father in Trento, who had been active since 1854. The two subsequently entered into a partnership. In 1895 he studied at a technical school of photography in Vienna and in 1897 took a course on phototype in Nuremberg. A passionate trekker, Enrico Unterveger preferred mountain photographs, which he printed as postcards using the phototype technique for the first time in Trentino. He further experimented with other techniques such as carbon printing, gum bichromate, and bromoil. Due to his connections with parties hostile to the Austrian occupation, he was imprisoned for seven months in Vienna in 1909. In 1915 he was deported to Katzenau and his studio was completely destroyed. After the war he managed to begin working again and in the 1930s he met Marinetti, which inspired him to produce photomontages and other Futurist projects. In 1943 his studio was completely destroyed by a bomb.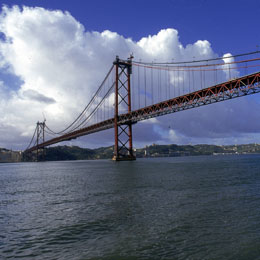 (Genoa 1945)
Giuliano Valsecchi was born in Genoa in 1945 where he first began applying photography and science to art and visual communication. In 1973 he graduated in architecture from the University of Florence and continued his photographic activity, producing naturalistic and scientific work (Multimedia Fabbri, Campaign for protection the envionment in Tuscany) and especially images of cities, architecture, works of art, archaeology, territory and landscape. In the years that followed he extended his interest in documenting various environments and human activities while working for numerous publishers of books and journals on images of art, architecture, science and nature. In the 1980s he became a partner in K&B News (a photographic agency), leading to a productive series of images of cities and environments in Italy and in Europe. He undertook numerous photographic campaigns, documenting the territory and urban life, with a particular attention to art in museums, churches and archeology. He has extended his photographic interest to food (still life) and food styling photography.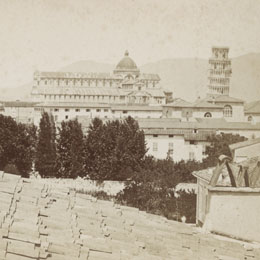 (Pisa 1808 – Pisa 1884)
Following in the footsteps of his father, Van Lint began his artistic career as a sculptor and managed a business selling "fine art objects". He probably began to work with photography at the end of the 1840s, and in the 1860s he participated in and won awards at various national and international exhibitions (Florence 1861, London 1862, Paris 1867, Pisa 1868). In addition to studio portrait work, his repertory of photographs was largely concentrated on the documentation of works of art and architecture in the city of Pisa. Nevertheless, some recently discovered prints of monuments in Lucca, Pietrasanta, and Florence that place Van Lint outside of Pisa, which had heretofore been considered his only place of activity.
(Empoli 1917-Empoli 1988)
A lawyer and photographer, Giuseppe Vannucci Zauli came from one of the most distinguished families of the Empoli bourgeoisie from the middle of the 20th century. He began working on photography while studying at university with his friend Alex Franchini-Strappo. During the 1940s and 1950s he joined a group of Florentine photographic enthusiasts and worked with Vincenzo Balocchi, later revisiting the images made with the master. In 1943 he published with Alex Franchini-Strappo Introduzione per una estetica fotografica and in 1945 Il bello fotografico, a text that brings together many of the finest photographs from many photographers of the period. Between 1941-1945 he produced the majority of his negatives with which he later reused to produce new images until the end of the 1960s.
(Mecklenbourg 1856 – Taormina 1931)
Wilhelm von Gloeden, a German baron, studied art in Weimar before undertaking the traditional Grand Tour in Italy, subsequently settling in Taormina in a house with garden that was to become his photographic studio.
During his stay in Sicily he learned the technique of photography from Giovanni Crupi and practiced it with increasing enthusiasm, in a literary attempt to "reconstruct" in pictures possible scenes of antique Arcadia, with Mount Etna and the sea of Ulysses in the background.
From around 1882 he began to use young local "actors", in nude or dressed in Greek costumes, in his photographic compositions. The daring erotic assonances singled him out, and not always rightly, as practicing photography that in those times was considered pornographic.
In 1895 after a scandal involving his stepfather the baron of Hemmerstein, von Gloeden lost his financial support and had to transform his passion for photography into a profession, He took a series of photographs of folkloristic type, sold to tourists, especially after the earthquake of Messina and Reggio Calabria in 1908. Between 1897 and 1906 he received various awards and honors and in 1906 he was awarded a gold medal by the Italian Ministry of Public Education.
As a foreigner, he had to leave Italy during the war of 1915-18. On returning to Taormina in 1918 he resumed his work and sold pictures printed from his earlier negatives. He ended his photographic activity in 1930.
Bertha Ernestine Henriette Wehnert-Beckmann
Cottbus 1815-Leipzig 1901
Bertha Beckmann started off as a professional daguerreotypist in 1842 in Dresden, Saxonia and later on, after staying in Prague at Wilhelm Horn's photo studio, moved to Leipzig in 1845 where she opened a photo studio with Eduard Wehnert whom she married shortly afterwards. After her husband's death in 1847 Bertha kept on signing her works as Bertha Wehnert-Beckmann. From 1849 to 1851 she was in New York, more exactly at Broadway (NYC) where she became famous as the only woman in the male dominated photography elite. She would receive famous artists and politicians, including the president of the US at her studio. She is the first photographer offering New Yorkers photographs on paper. A pioneer in daguerreotype, calotype and stereoscopic photography, Bertha is the first known German woman photographer as well as the first professional photographer in Europe. She stood out for her highly original photographic language and her great mastery of photographic techniques. Many of her works are preserved at the Leipzing Stadtgeschichtliches Museum. Alinari Archives preserve a daguerreotype portrait she made in Leipzig.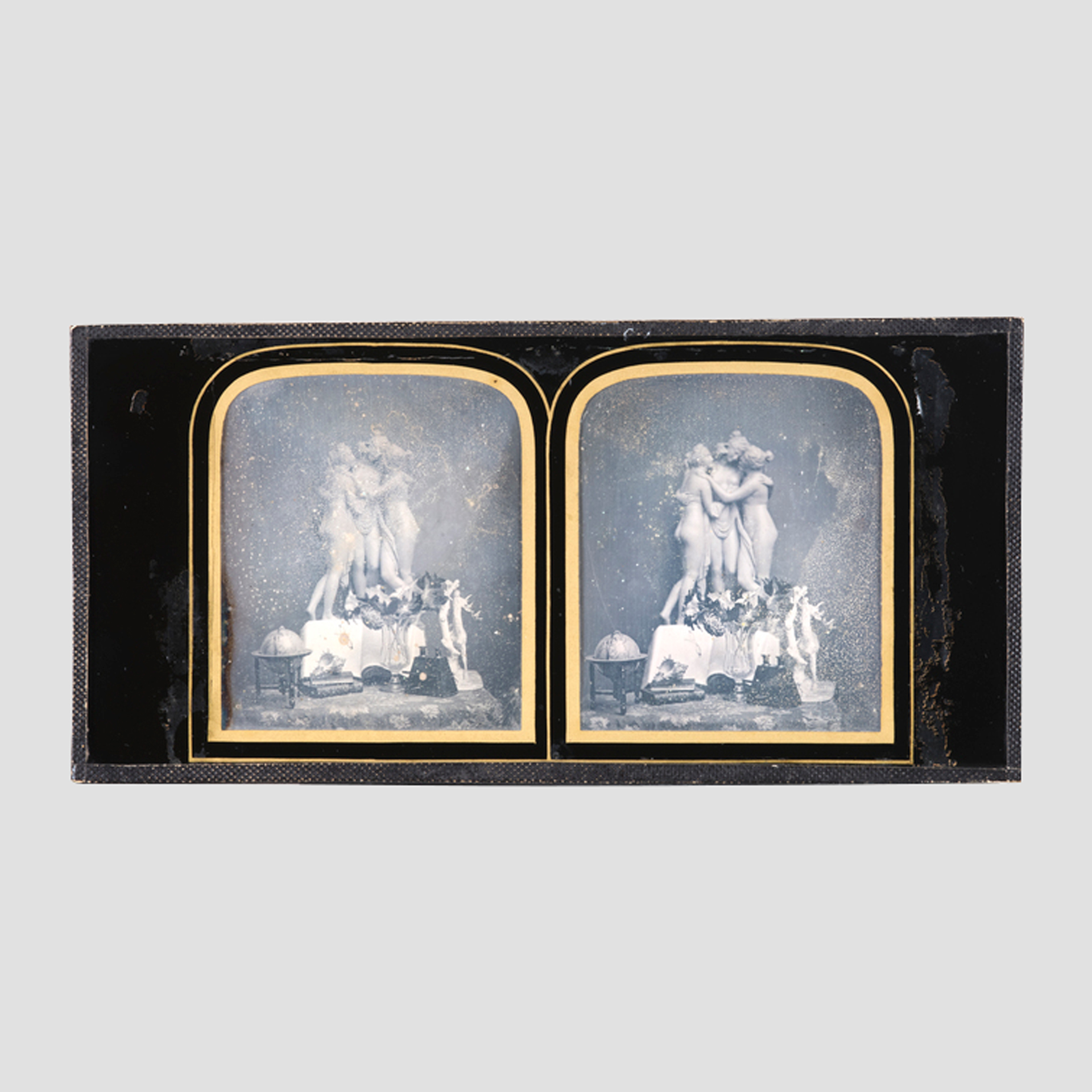 London 1824 – 1871
An English photographer and a pioneer in stereoscopic photography and one of the first to join the London Stereoscopic Company, he often used to sign his works with his initials TRW. He worked in London with Claudel and later on probably also at Richard Beard's. After the 1851 Universal Exhibition at Crystal Palace, where he produced daguerreotypes, Williams opened his first photo studio at 35, West Square, Lambeth. Alinari Archives preserve two autographed still life stereoscopic daguerreotypes and a stereoscopic daguerreotype attributed to him with a copy of the Three Graces by Canova.
One of the most important photographic studios in the Austro-Hungarian city of Trieste founded by Giuseppe and later continued by his son Carlo and granddaughters Marion and Wanda, the latter being considered one of the most important names in world photography. Subjects range from the documentation of Trieste in the second half of the nineteenth century to masterpieces of portraiture from the 1930s by Carlo and Wanda and the war photography of Marion.
Carlo Wulz (Trieste 1874- Trieste 1928) continued the "Grande Atelier Wulz" after the death of his father and founder Giuseppe. He perfected his photographic technique, which he rigorously applied to his work, especially portraits and group portraits. In 1910 he continued to work in his father's atelier, which had permanently moved to Palazzo Hirschl in 1891. At the beginning of his photographic career, Carlo particularly worked on group portraits that celebrate, in the studio or in work sites, different professions: bakers, innkeepers, brewers, welders, cobblers, stone-cutters, nurses, seamstresses, cyclists, gymnasts, orchestras. However, Carlo specialized in family portraits--especially of his daughters--showing an eye for complexity, using light to evince a subtle psychological reading of the sitter. Indeed, the photographs of Carlo Wulz are ambitious works: portraits of his daughters, photographed at home or at official events, transcend conventionality, appearing as complex characters where the softness of the face, the intensity of expression, sweetness, affective communication, and sensibility are highlighted by intense shadow and light. Wulz also produced an interesting series of penetrating portraits of contemporary Triestan artists. He won an award at Monza at the 1925 Seconda Mostra Biennale Internazionale delle Arti Decorative and later again at the Third edition in 1927 Carlo's work occupies a central place in the history of international photography in the twentieth century.
(Trieste 1905–1993)
Born in Trieste on 25 March 1905 to Carlo Wulz and Angela Silla, she was the younger sister of Wanda with whom she lived and worked in Palazzo Hirschl at Corso Vittorio Emanuele III (later Corso Italia) 19. Her first artistic interest was painting, demonstrating a remarkable talent, before later abandoning it to devote herself to photography.
A pupil of the painter Pietro Lucano, she took part in a group exhibition at the Giardino Pubblico in Trieste and in 1923 one of her paintings, representing the interior of a garden at Villa Modiano, was shown at a painting exhibition in Rome.
She exhibited at numerous exhibitions, including the biennials of the Circolo Artistic Triestino in 1924 and 1925, while during the 1920s she worked as a model for various artists, including Eduardo Passauro (Ritratto di Giovinetta at the Revoltella Museum in Trieste, and Ritratto di Marion, pastel, Alinari- Archive Wulz).
Most of her paintings have been dispersed on the antiques market, with the exception of a few that are preserved in the Alinari Archives.
She helped her father Carlo with his work and often modelled for his photographs, as in the case of the two portraits published in the Corriere Fotografico yearbook Luci e Ombre in 1926 and 1927.
Upon her father's death in 1928, she took over the running of the studio with her sister and devoted herself to the activity of portrait photographer together with Wanda.
Her photographic portraits include the dancers Nini Perno and Alba Wiegele, the fencer Irene Camber and, above all, her sister Wanda, who was also often photographed together with her friend Anita Pittoni. From the terrace and windows of her studio-home on Corso Italia, she photographed the most dramatic moments of the German occupation during the Second World War, the demonstrations and the Yugoslavian occupation.
The Alinari Archives have looked after the Wulz archive since 1986, in which 298 negatives and 400 vintage prints by Marion have been identified to date. There are also documents, correspondence, diplomas, accessories and photographic materials from the Wulz studio, as well as numerous recordings of interviews with Marion made when the archive was transferred from Trieste to Florence.
(E.S.)
Following in the footsteps of her father Carlo, Wanda (Trieste 1903- Trieste 1984) took over his studio in Trieste upon his death, further studying portraits in the famliy "atelier" with her sister Marion (1905-1990). Just as Carlo had learned from his father Giuseppe, so did Wanda from her father. Even if her work is characterized by an elaborate and subtle "language" she had learned from her father, Wanda later focused on a more contemporary form of expression, playing with more intense light, rich in contrast, and in some cases, movement. In 1930 Wanda began to receive her first international recognition, when she was invited to participate in the "Biennale d'Arte Fotografica di Roma" where she exhibited six works. But in 1932 on the occasion of the tenth anniversary of the Fascist Revolution, a definitive consensus was reached both for her joyful portraits and for her surprising Futurist prints, including the double exposure 'Io più gatto', with the admiration of Marinetti, who rated the image one of the finest of the twentieth century. But three other dazzling images were equally surprising: "Wunder-Bar", "Jazz-band", "Esercizio", all three entirely groundbreaking images produced outside of any existing models. Thus her name is tied to an extremely particular moment in Triestan, Italian and European history in which Futurism, or rather the culture of the avant garde, flourished.
(Spilimbergo 1932)
Photographer and historian of Italian photography. After having studied architecture and painting, Zannier dedicated himself to photography (from 1952) and to the history of photography (from 1954). One of the founders of the Gruppo friulano per una nuova fotografia (1955), with an interest for sociological and environmental research, Italo Zannier worked first in Friuli (1952-1965) and later throughout the rest of Italy, producing professional images documenting the Italian industrial reality. He later dedicated himself to landscape photography as evidenced by ten years of work throughout Italy spanning 1967-1976 to produce images for the 9-volume ENI editorial project "Coasts of Italy, Mountains of Italy" that constitutes the most complete photograph collection of the Italian territory. One volume of the project was entirely dedicated to Sardinia. He began teaching in 1971, becoming the first university professor to teach photography in Italy. He is the president of the scientific committee of the Alinari National Museum of Photography and of the Centro di ricerca e archiviazione della fotografia di Lestans, which he founded in 1994. He has been the recipient of various awards, including an honorary degree in Letters and philosophy from the University of Udine for his groundbreaking work on the history and promotion of photography, and for his tireless work in the preservation of photographic heritage. He is a member of many photographic associations, including the Société européenne d'histoire de la photographie.